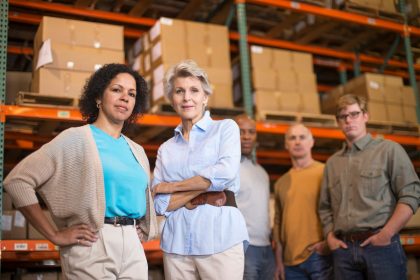 In today's business world, it is more important than ever to find ways to add value to your products and services. This is where third-party logistics (3PL) providers can help. 3PL providers offer a wide range of value-added services that can help businesses of all sizes improve their operations and bottom line.
What Are Value-Added Services in Logistics and Warehousing?
Value-added services in logistics and warehousing optimize the storage, packaging, and delivery of goods. Value-added services provided by your 3PL partner can include but are not limited to:
Kitting: Kitting is the process of assembling products and components into a single bundle. This can be done for various reasons, such as reducing the number of SKUs (stock-keeping units) that a company has to manage, improving the efficiency of assembly line workers, or creating a finished product that is more appealing to customers.
Packaging: Packaging services can add value to products by protecting them from damage during shipping, making them easier to store and handle, or improving their appearance. 3PL providers can also help companies design and implement packaging that meets the unique needs of their products.
Pick and Pack Services: Pick and pack services involve selecting the products that need to be shipped, packing them into individual boxes or containers, and preparing them for shipping.
Repacking: Repacking is the process of transferring products from their original packaging into new packaging. This can be done for various reasons, such as reducing the amount of packaging material used and improving the efficiency of shipping.
Inventory Management: Inventory management is the process of tracking and managing the stock of products that a company has on hand. This includes keeping track of where products are stored, how much of each product is in stock, and when products need to be restocked.
Product Inspection: Product inspection is the process of checking products for defects or other problems. This can be done before shipping to ensure that only high-quality products are sent to customers, or after receiving products to ensure that they meet the company's quality standards.
Product Rework and Repair: Product rework and repair involve fixing or improving products that do not meet the company's standards. This can include repairing damaged products, reworking products that do not meet customer specifications, or improving the design of products.
Containment Services: Containment services involve isolating defective products from the rest of the inventory. This can be done to prevent damage to other products, prevent the spread of defects, or both.
Returns Processing: Returns processing is the process of handling products that are returned by customers by inspecting the products, determining the reason for the return, and either repairing or replacing the products.
Material Screening: Material screening is the process of sorting and separating materials. This can be done to remove impurities or contaminants from a material, to separate different types of materials, or both.
Postponement Service: Postponement is the process of delaying the production or shipping of a product to extend the shelf life of a product or adjust production to meet customer demand.
How Can 3PL Providers Help Businesses Improve Their Operations?
When provided by a third-party logistics company, value-added warehousing and distribution give manufacturers, e-commerce businesses, and retailers the ability to focus on their core competencies while leaving the logistics to experts.
One of the most important ways that 3PL providers can help is by reducing transportation costs. 3PL providers have established relationships with carriers and can often secure lower rates than businesses could on their own. In addition, 3PL providers can manage the transportation process from end to end, saving businesses time and resources.
Another way that 3PL providers can help businesses is by providing warehousing and fulfillment services. 3PL providers have the expertise and infrastructure needed to efficiently store and ship products, which can help businesses improve their customer satisfaction rates.
The best way for businesses to determine which value-added services are right for them is to work with a 3PL provider that offers a comprehensive suite of services. This way, businesses can find a one-stop shop for all of their logistics needs.
What Are the Advantages of Using Value-Added Services in Logistics and Warehousing?
There are many advantages to using value-added services provided by 3PL companies. Some of these advantages include the following:
Increased efficiency and productivity: By outsourcing logistics functions to a 3PL company, businesses can often see increases in efficiency and productivity as a result of the streamlined process and reduced logistical overhead.
Cost savings: By leveraging the scale of a 3PL company, businesses can often realize significant cost savings on transportation, warehousing, and other logistics-related expenditures.
Improved customer service: A 3PL provider can provide a business with improved customer service through enhanced order fulfillment capabilities (order processing, shipping, and returns processing), shorter delivery times, and greater flexibility to meet customer needs.
Reduced stress and improved workflow: By outsourcing logistics functions to a 3PL company, businesses can often reduce the amount of stress associated with managing complex supply chains and improve their overall workflow.
Greater flexibility: A 3PL provider can help you respond quickly to changes in demand or supply, which can help you stay competitive in the marketplace.
Enhanced security: By outsourcing your logistics operations to a 3PL company, you can improve the security of your business and protect your confidential information.
Contact Lean Supply Solutions to learn more about our Value-Added Services
It's critical to have a solid logistics and warehousing strategy in today's competitive business environment. Lean Supply Solutions offers a comprehensive suite of value-added services that can help businesses improve their logistics and warehousing operations. Our team of experts will work with you to assess your needs and objectives and develop a customized solution to meet your specific requirements. We can also provide cost-effective fulfillment services through our strategically located facilities on both the East and West Coasts of the United States and Canada. Contact us today to get a free quote.
Also read: Everything You Need to Know About Last Mile Delivery