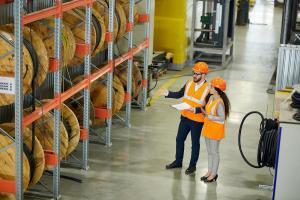 It is an important practice to regularly evaluate your business to ensure that you are on track for success. One of the most vital parts of your business is inventory management. If you have had the challenge of getting the right products in stock for when your customers need them, or if you have lost money due to excess stock in your warehouse, it is highly recommended that you improve your inventory management strategy. Here's what you need to know about inventory management systems and some best practices for managing inventory effectively.
What Is Inventory Management?
An inventory management system is one of the most important parts of a business' supply chain. It aims to ensure that the right products are always stocked, and that the right quantity is available for sale when customers need them. It also ensures that the business owner is fully aware of when each product comes and goes from the manufacturer, to the warehouse, to the distribution method, to the customer. When inventory management is done effectively, businesses can lower their costs while maximizing sales and streamlining the process.
Inventory Management Best Practices
Here are some best practices to help you manage inventory effectively.
Use the FIFO Approach
The FIFO approach stands for "First In, First Out". You should sell your goods in the same chronological order as they were purchased or created. This is extremely important if you are selling perishable products like food, makeup, and flowers. The best way to apply FIFO in a warehouse or storeroom is to add new items from the back so that older products are the first items that are picked.
Fine Tune Your Forecasting
Accurate forecasting is vital to ensuring that you make the right decisions about your inventory and are always prepared if there is an issue. You should base your projected sales calculations on factors such as historical sales figures, marketing trends, predicted growth, the economy, promotions, marketing efforts, and more.
Identify Low-Turn Stock
If you have stock taking up space in your warehouse because it hasn't been sold in the last six to 12 months, it is best for you to stop stocking that item. Instead, you should consider different strategies to clear the space of that stock. You can offer it at a special discount or promotion. Excess stock wastes your space and capital, so it is best that you get these items moving as quickly as possible.
Audit Your Stock
Even with the best inventory management software and strategy it is still important for you to periodically counter inventory to ensure that what you have in stock matches what your records say. There are different techniques for auditing your stock including an annual year-end physical check where you count every single item. You can also do an ongoing spot check which can be useful for products that are fast moving or have stocking issues.
Use Inventory Management Software
Inventory management software can help you track your products in real time and provide you with accurate counts so you can give your customers current information. It also helps you know where items are in your warehouse so that you can make the best decisions for organizing and route planning. When choosing a good inventory management software, you can expect to reap the following benefits:
Reduce costs, improve cash flow, and boost your bottom line
Track inventory in real time
Forecast customer demand
Prevent product and production shortages
Prevent excess stock and raw materials
Easy inventory analysis on any device
Accessible from your point-of-sale (POS) system
Optimize warehouse organization and employee time
Quick and efficient barcode scanning to speed up intake
Multi-location management (tracking inventory across several locations or warehouses)
Hire a Stock Controller
If you have a lot of inventory it may be in your best interest to hire one person and make them responsible for managing it. A stock controller will process all purchase orders, receive deliveries, and ensure that everything that enters your warehouse matches what was ordered.
Remember Quality Control
No matter what industry you are in, you must ensure that all your products are in great condition and work as they should. Quality control is a vital part of inventory management because you do not want to be sending your customers defective items. Ensuring quality control can be as simple as having your employees quickly examine the items during stock audits. They should follow a checklist for signs of damage and correct product labelling to make sure everything is in order.
Get Inventory Management Help from Lean Supply Solutions
Proper inventory management requires the right processes and tools. Simply tracking everything with pen and paper will consume your time and will produce serious errors. Setting up a quality inventory management system will save you the hassle, save you money, ensure accuracy, help you prepare for any potential issues, and improve the way you run your warehouse. When you partner with a third-party logistics provider (3PL), you'll have incredible cloud-based inventory management solutions and the manpower to run your warehouse for better optimization.
If you're looking for the right 3PL partner to help you implement your inventory management solution, look no further than Lean Supply Solutions. We can help you if you are looking for a 3PL company with the latest technology and cloud-based software systems. Our 3PL and 4PL services include pick-and-pack, inventory management, delivery, and more, and we are dedicated to helping you achieve consistent, accurate, and quality results. To learn more about outsourcing to our 3PL distribution team, or to ask any questions, contact us today!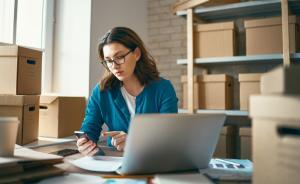 It's easy to get excited at the prospect of improving your warehouse organization and management with a new Warehouse Management System (WMS), but there are some important things to consider to ensure you are using this software as effectively as possible. Here are some tips from the experts to help you get the most out of your WMS, and how a third-party logistics provider (3PL) can offer this and much more.
Evaluate and Choose the Right WMS
The first step is choosing the right WMS for your needs. Unsure of where to begin? Here are some questions to ask yourself to help you narrow down your options:
What problems have you been facing in your warehouse?
What opportunities for improvement have you yet to take hold of?
Do you need to access data from multiple sources to gather an accurate inventory count?
Has your inventory grown to the point where you have difficulty locating items in your warehouse?
Are you struggling to create efficient and time-saving paths for your employees to retrieve and store items?
Which processes of your warehouse need improvement?
Choose a Deployment Method
There are three deployment models to choose from with WMS. Here's what you need to know about each of them to help you choose the best option:
On-Premise WMS
In this model, the WMS is installed directly onto your company's system and you are responsible for sourcing and running the program. These roles include network infrastructure, power supply, servers, etc. You may also need to pay for updates in the future.
Hosted WMS
A hosted WMS is like the on-premise model, but the infrastructure requirements are rented on an as-needed basis from your provider or a third-party. In other words, although your WMS is remotely hosted, you still own the software on your system.
Cloud-Based WMS
If you're familiar with Software as a Service systems (SaaS), cloud-based WMS is quite similar. You can access the data from the software using your personal login, regardless of what computer you use. You own this software and can access it if the program has been installed on other devices. Many WMS providers today offer cloud solutions as they are a safer and more efficient way to store information so managers can always have real-time updates without paying extra.
Build an Implementation Team
Once you have chosen the best WMS model for you, it's time to get the system in place and build your implementation team. Here are the people involved in the process:
Project Sponsor
This is the high-level decision-maker who requested the WMS and determines the scope of the project, budget, etc.
Project Manager
The project manager is responsible for daily activities related to implementing the WMS. They are the primary contact between the vendor and the company and will delegate tasks, create schedules, and monitor deadlines to make the WMS as seamless as possible for IT and operations teams.
System/Data Administrator
The person responsible for the technical aspect of the WMS is the system or data administrator. They will ensure it integrates with the company's existing Enterprise Resource Planning (ERP), and that the data is safely migrated from the current system to the new one.
Business Unit Leaders
These people are employees you assign from your operations team, IT, and warehouse staff, who will be part of the implementation process. They should attend meetings and daily activities and stay informed to train other workers later.
Provide Training Sessions for Employees
The provider of your WMS should properly train your employees involved to ensure they are familiar with the system and receive hands-on support. These employees will become the internal experts to train and assist other members of your organization. Proper training is vital to ensure you are getting the most out of your WMS and streamlining warehouse processes.
Create a Communication Plan
Since implementing WMS can mean a lot of changes for each of your departments, schedule a company-wide meeting to explain this change. Without clear communication of how to use and access the WMS data, you'll have confused or disengaged employees that don't know how to adapt. At worst, implementing without communicating could lead to an increase in worker turnover and slow you down, defying the whole purpose of your goals. Here are some tips:
Appoint spokespeople who provide updates to your teams
Market the project internally, explaining why this implementation is beneficial to everyone
Communicate in-person as much as possible
Create a dialogue and let your team weight in on their thoughts, questions, or concerns about the new system
Use multiple communication channels
Review Your WMS
Once you've implemented the WMS and a month has passed, it's time to evaluate. Have there been any issues with it so far? Has it been helping you plan and budget better? How have the forecasting features and data collection helped you stay organized and improve customer service? Have a team meeting to see how everyone is doing and do regular follow ups until everyone is on the same page.
Get Warehouse Management Help from Lean Supply Solutions
A warehouse management system is an asset to help you optimize your operations and prepare for any potential issues. When you partner with a 3PL provider, you'll have access to WMS and much more, plus, they will help you and your team get trained on how it works and benefits everyone.
If you're looking for the right 3PL partner to help you implement a WMS, look no further than Lean Supply Solutions. Our 3PL and 4PL services include pick and pack, inventory management, delivery, and more, and we are dedicated to helping you achieve consistent, accurate, and quality results. To learn more about outsourcing to our 3PL distribution team, or to ask any questions, contact us today.