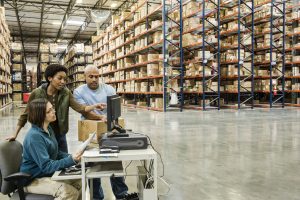 Inventory management is a key process of many growing and established successful businesses. It involves tracking inventory levels at every possible turn to keep storage capacities intact and ensure that certain products are kept in optimal storage conditions at all times while maintaining low operational costs. The main objective of an effective inventory management system is to streamline supply chain processes and meet the ever-changing market demands quickly to avoid product over and understock.
Implementing the following major inventory management techniques can help you run a tight supply chain ship and increase the efficiency and productivity of your operations.
Automate Your Inventory Management System 
Automating your inventory management system is an effective means of streamlining important business processes such as placing product orders, updating shipment information, and tracking inventory levels. These are all tasks that were previously done manually, which meant they took longer to complete and were often prone to human error leading to expensive inaccuracies. The benefits of automated inventory management include faster product replenishment, receiving purchase orders, customer order delivery, inventory tracking, and so much more.
An automated logistics inventory management system reduces the risk of errors and inaccuracies and accelerates key business processes to help you scale your enterprise.
Utilize Data Analytics for Inventory Optimization Techniques
Employing accurate data analytics based on past sales, current inventory stock levels, and customer feedback helps you better understand and forecast certain industry-based trends. These tools and resources ensure smooth warehouse operations and help you predict future trends so that you can make the right product ordering decisions in the present that will help grow your bottom line.
Integrate Your ERP with Your Logistics Inventory Management System 
Start-ups and small businesses with minimal overheads can initially get away with using spreadsheets to track their inventory management. But as your business continues to grow in size and customer acquisition, you're going to need to switch to using more sophisticated inventory management strategies and softwares in logistics. Enterprise Resource Planning (ERP) inventory management systems combine all of your business and planning operations in one convenient system. This allows you to manage your logistics, finances, operational systems, and inventory using a single platform.
Make Use of Just-in-Time Inventory Management 
Just-in-time (JIT) is a major inventory management technique that is designed to reduce operational costs and waste while simultaneously increasing supply chain efficiency. It uses smart technology to ensure new inventory and goods are only received on a need-be basis. JIT tracks current inventory levels in real-time and analyzes data that reveals the market demand for certain products before restocking orders are placed. The goal is to increase space and operational efficiency in warehouses and across the entire supply chain.
Employ EOQ Model for Effective Inventory Management 
EOQ stands for economic order quantity, also known as optimum lot size. This refers to an exact formula that calculates the optimal order quantity businesses should place for specific products to minimize logistics operational costs, reduce overstock expenditures, maximize warehouse storage space, and prevent the risk of stockouts for high-demand items. Basically, this formula lets you know the right amount of each product to order based on historical market data.
Speed Up Your Fulfillment Process with Lean Supply Solutions
Managing a business and a supply chain simultaneously is challenging. As your business continues to see tremendous growth, you're going to need extra help with staying on top of your supply chain operations. Lean Supply Solutions employs sophisticated major inventory techniques using top-of-the-line processes and softwares to scale, accelerate, and optimize your supply chain operations. Contact us today to learn more.