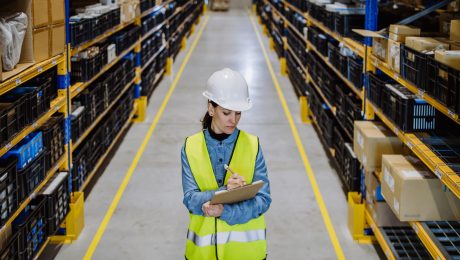 If you're a business owner, you know that returns management in e-commerce is one of the most important things to get right when it comes to providing a great customer experience. Processing returns fast and efficiently can make or break your business—but it's also a time consuming task with ongoing operational headaches. That's why many savvy retailers outsource their e-commerce returns and partner with a 3PL (third-party logistics) provider. In this ultimate guide to e-commerce returns management, we cover why outsourcing to a 3PL is the best choice for e-commerce businesses looking for hassle free return fulfillment.
Common Challenges in E-Commerce Returns Management
Handling returns in e-commerce can be a daunting task for any business, big or small. It's a process that requires care, attention to detail, and proactive measures to ensure customer satisfaction. Unfortunately, there are many common challenges in e-commerce returns such as:
Inaccurate Product Descriptions
One of the most common challenges in e-commerce returns management is incomplete or incorrect information. This can include incorrect product descriptions, incorrect pricing information, or incorrect shipping information. This can often lead to customers receiving the wrong product, the wrong size, or the wrong color.
High Cost of Returns
Returns can be costly for businesses, as they often involve shipping fees, restocking expenses, and potential loss of revenue. These costs can add up quickly and significantly impact a business's bottom line. Customers also suffer from the high cost of returns, as they may have to pay for shipping fees or restocking fees.
Unhappy Customers
A lack of customer service is another common challenge in e-commerce returns management. This can often result in customers feeling like they are not being taken care of or that their concerns are not being addressed. This can also lead to customers feeling frustrated and may even result in them returning items that they were not intending to return.
Time-Consuming Process
The process of e-commerce returns can be very time-consuming. This is because businesses must often contact the customer, arrange for return shipping, and process the return once it arrives at their warehouse. To make the process more efficient, many businesses have automated their returns management system.
Inefficient Inventory Management
One of the most common challenges in e-commerce returns management is inefficient inventory management. This issue can be caused by a variety of factors, such as inadequate tracking systems, inaccurate forecasting methods, or suboptimal storage practices. When a company does not have a clear understanding of what inventory it has on hand and where it is located, it can be difficult to efficiently process returns and restock items.
Benefits of Outsourcing E-Commerce Returns Management to a 3PL Company
There are many benefits of outsourcing e-commerce returns management, such as:
Expertise and Specialization in Returns Management
3PL providers have expertise and a laser focus on e-commerce returns management, allowing them to handle the process more effectively and efficiently than most businesses can on their own. With a 3PL, you'll have access to trained professionals who are familiar with industry best practices, know how to handle damaged or defective products, and can work quickly to process customer returns.
Improved Customer Satisfaction
Outsourcing e-commerce returns management to a 3PL company can also lead to improved customer satisfaction. This is because the customer will likely have a better experience when dealing with the 3PL company than they would if they were dealing with the company directly. The 3PL company will be able to provide the customer with accurate information about the product and will be able to resolve any issues that may arise in a timely manner.
Increased Efficiency and Reduced Costs
Through the process of outsourcing e-commerce returns, companies can expect to see a faster turnaround time for processing returns, which ultimately results in reduced costs. This is because the 3PL company will be able to consolidate shipments and will only ship products that are actually being returned. This can help to save the company money on shipping fees, as well as on packaging materials.
Access to Innovative Technology and Tools
An experienced 3PL partner can provide a state-of-the-art technology platform that allows seamless tracking of returns and inventory, analysis of data, and customer communication. With the latest automation and AI tools, they can also streamline processes and make the return experience more efficient. By leveraging their technology and tools, businesses can focus on core competencies and strategic objectives while the 3PL manages the returns process.
The Process of Outsourcing Ecommerce Returns Management to a 3PL Company
When it comes to managing e-commerce returns, outsourcing to a 3PL company can be a strategic decision for many businesses. Before making the leap, it's important to assess your business's needs and identify the areas where outsourcing could bring the most value.
Next, assess potential 3PL partners for the following factors:
Experience and reputation
Service offerings
Industry knowledge and compliance
Availability
Pricing and flexibility
Additionally, their access to advanced technology, efficient processes and clear communication should also come under consideration. After all, you want a 3PL provider that will ensure your customers are happy and satisfied, and that your business operations run smoothly.
With expectations aligned, the process of integrating systems and processes can begin. This requires transparency and open communication between your business and the 3PL company to ensure a smooth transition.
The onboarding process includes training sessions and a thorough understanding of your business's operations to help the 3PL team successfully manage your returns.
Lastly, ongoing communication and performance evaluation is a crucial element for a successful outsourcing partnership. This helps both sides stay on the same page and make necessary adjustments to ensure ongoing success.
Partner with Lean Supply Solutions
If you are looking for a 3PL provider in Toronto to help with your e-commerce returns management, give Lean Supply Solutions a call. We make ourselves aware of the rising trends in the supply chain and always strive to stay up to date. Our 3PL, packaging, and supply chain management can streamline your processes for better success. Lean Supply Solutions can offer consistent, accurate, and quality results by striving to ensure that the right products are provided to the right customers at the right time, while saving you money. To learn more about the process of outsourcing e-commerce returns to Lean Supply Solutions, contact us today.
Also Read: Top 5 Benefits of Outsourcing Warehousing and Distribution to 3PL Logistics