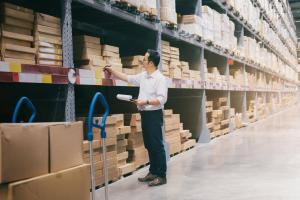 If you've been working in the order fulfillment industry for a while, you've probably heard about technology like chatbots, auto-email replies, barcode scanners, customer management software, robotics, and more. Automation is everywhere, and many of your competitors are taking full advantage of this technology to optimize their supply chain. If you want to learn more about how automated shipping can benefit your organization, here's what you need to know.
What Is Automated Shipping?
Automated shipping is the automatic process of ensuring commercial shipping procedures are performed as new orders are placed. This includes picking items from inventory, packing boxes, and delivering packages to customers.
When it comes to fulfillment, speed is one of the major advantages that companies seek. With an automated shipping solution, you can automatically get orders in cue and eliminate several manual tasks involved in the process. You can introduce robots to take over manual tasks, add a layer of software to your system, or install conveyor belts to move products through the warehouse.
Benefits of Automated Shipping
Improved Order Accuracy Rate
An automated shipping system can significantly improve your order accuracy rate. It achieves this by automatically checking the existing cube and weight of a carton against the expected cube and weight of an order. If any carton that is processed shows that it is following outside of the expected range, it will be diverted for manual checking and reprocessing. In the long run, this translates to fewer errors, fewer returns, and happier customers who are more likely to stay loyal to your brand.
Increased Efficiency
Automated shipping systems lead to significantly faster turnarounds. Since tasks like packing, adhering shipping labels, and sorting or counting stock levels can be time-consuming when handled manually, automation can help you perform these tasks faster. A streamlined shipping process helps you increase production, which lets you cater to more orders in less time. The ultimate benefit of automation is that it helps you drive sales and boost your profits.
For example, you can use barcodes to speed up processes. As you scan items, it automatically updates counts and data in your warehouse management system. Similarly, you can send tracking information in real-time to your customers using GPS location on your delivery trucks.
Optimizes Supply Chain
The process of optimizing your supply chain aims to consolidate your data in one place. This makes it easier to track orders and manage inventory, and even provides you with data to improve demand forecasting.
Reduced Errors
An automated warehouse helps businesses fully integrate inventory management through the ERP (enterprise resource planning) system. This includes all fixed and current assets and goods available. Automation provides access to important information such as your customer address book, the introduction of fuel charges, and other types of automatic storage. With accurate and updated information such as this, it will help you eliminate significant errors that can be costly.
With manual data entering, the risk of errors is increasingly high. This can have many negative financial consequences especially as your business changes and grows. Some of the consequences of these errors include increased delivery costs, maintaining excessively high availability, improper planning and coordinating, future penalties for documentation errors, and more.
With the right freight management software, you can optimize your entire logistics business. You may be surprised to find out how many aspects of your operations can be integrated to bring peace of mind to your warehouse managers and your customers.
Cost-Effective Shipping
Automated shipping systems can help your business find significant reductions in shipping costs. This is a huge advantage for organizations that work in this industry because shipping costs tend to account for a huge percentage of total fulfillment costs. Some of the savings you will find through automation include the labour savings mentioned before, but also includes the benefit of fewer dimensional weight surcharges.
Automation reduces dimensional weight surcharges, thus keeping the costs lower. This is accomplished in numerous ways, but the most common method is cartonization. Cartonization is the process of using software to ensure that orders are shipped in the best sized packaging for the items inside. This ensures that shipments do not fail the dimensional weight calculation test.
If a shipment fails this test, it is flagged and redirected for repackaging into a more appropriately sized carton to eliminate or reduce the surcharge. Over time, these savings can have a major impact on your bottom line.
Choose Lean Supply Solutions to Automate Your Shipping
An automated shipping process can help your business grow and save money at the same time. Although automation is usually reserved for large enterprises, e-commerce merchants and small businesses that partner with third party logistics providers (3PLs) can access automation to help them save on shipping costs as their business grows.
At Lean Supply Solutions, you can benefit from quality and accurate software and automation solutions that help you make wiser decisions about optimizing your supply chain. Our Lean Methodology helps our clients eliminate any operations, equipment, personnel, or resources that do not add value to their supply chains. We do our best to ensure that you consistently deliver the right products to the right customers at the right time.
Ready to get long-term savings, customer satisfactions that deliver the best return on investment, lower operating costs, improved focus, high-end technology, and more? We're here to help you. In addition to automated shipping, our services also include warehousing and distribution, pick and pack, repackaging, integrated solutions with companies like Amazon, labelling, online reporting, and transportation. You can trust us to provide consistent, predictable, and quality results. Contact us today!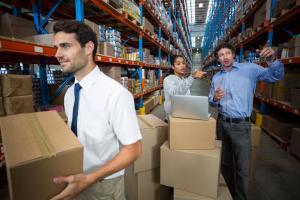 For many companies, their e-commerce sales have outperformed those of their brick-and-mortar store sales. Now, in light of the global pandemic, companies are seeing their online sales skyrocket to new heights. In 2020, after merchants closed their doors and adapted to online retail avenues, many quickly realized the difference between delivering products to customers and having them come to the store.
The fulfillment process has never been more important to retailers. Each order placed online needs to be picked from available inventory, packed in boxes, properly labelled for shipment, and physically delivered to the customer. There are retail fulfillment costs that come with this process, too.
If you want to truly embrace what it means to be an omnichannel business, you'll need to improve your retail fulfillment process and get professional logistics management to help you with the heavy lifting. What is retail fulfillment? How can a logistics provider help you scale your e-commerce business? Here's everything you need to know to optimize.
What Is Retail Fulfillment?
Retail fulfillment involves the assembly and shipment of a customer product order. Instead of a customer going to a physical store to buy the items they want, they can visit your website and purchase the items they want. The e-commerce platform allows this notification to arrive to the fulfillment centre, where they will ensure the correct products are picked, packed, and delivered to the customer.
The Importance of the Retail Fulfillment Process
Retail fulfilment is important to your online because it directly impacts customer satisfaction and profits. Although you may be an excellent salesperson, you still need to consider the costs and time to pack orders, ship them out, and deliver them to your customers within an acceptable time frame. If you cannot deliver on these guarantees each time your customers place orders, they will happily move on to a retailer that can.
Working with a third-party logistics (3PL) provider to manage your retail fulfillment process is necessary to helping your business grow. Their efficient processes and management of customer orders will help you scale as demand increases, so you can also make more profits.
Workflow of the Retail Fulfillment Process
Receiving New Inventory
As products leave your inventory to go to your customers, you will need to order more. If you have an e-commerce system in place, you will likely get a lot more orders than your local shoppers. With a retail fulfillment provider, you will be more equipped to manage reorder quantities and have a deeper understanding of inventory forecasting.
When new inventory comes into your fulfillment centre, each SKU will get a storage bin, shelf, or pallet, and will be organized into the physical and digital system with proper documentation. A warehouse management team can help you implement the right organization, infrastructure, software, and processes to track your inventory.
Warehousing
After the inventory is stored, the next step is to use those organized products to fulfill customer orders. Your stock levels will need to be monitored to ensure that you replenish items as they are sold to prevent stockouts.
Picking and Packing
When a customer places an order and it has been processed in your queue, a picking list is generated. This list is given to warehouse workers to retrieve the products and prepare them for packing. Most deliveries are sent in durable cardboard boxes or poly mailers. These containers may be filled with stuffing to protect the products from bouncing around and getting broken during delivery.
Shipping Order
The last step in the fulfillment process is shipping. The item will be shipped or delivered to the customer and should arrive before the estimated date as posted on your website after they checkout the item. A 3PL provider that has great relationships with shipping companies and drivers can ensure that your products will arrive to your customers on time.
Retail Fulfillment Optimization
Selecting a Fulfilment Centre
The closer your fulfillment centre is to your customers, the more affordable and simpler your shipping process will be. But even with international customers, you can help customers get their orders faster while reducing shipping costs if you choose a fulfillment provider with strategic locations.
Integrated Fulfillment Software
When choosing your 3PL partner, be sure that they have integrated fulfillment software and technology. Their software should seamlessly integrate with the e-commerce platform and online marketplace to better manage orders across sales channels.
As soon as an order is placed online, your fulfillment staff will get the alert to pick, pack, and ship the right items to the customer. Then, tracking information can be sent to the platform or marketplace and shared with your customers when you ship their orders.
Shipping Time
Amazon's lightning-speed two-day shipping is the new expectation, so customers want to know that they won't have to wait long between the time they checkout a purchase online and receive the item at their door. Choosing a 3PL provider with strategically located distribution centers will save you big time on delivery and shipping. You can reduce your fulfillment time without paying for expedited costs.
Choose Lean Supply Solutions
If you're looking for quality retail order fulfillment support and want to partner with a company near you, Lean Supply Solutions is your solution. We offer extensive e-commerce solutions to a wide range of retailers around the world and provide an assortment of services to help your business grow. Contact us today to learn how we can help you improve your supply chain operations.