Thursday, 21 October 2021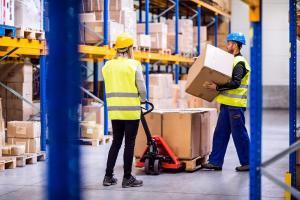 As your business continues to grow and managing it keeps you busier than ever, choosing the right order fulfillment services to support your organization is absolutely vital. E-commerce fulfillment services can help you manage and process incoming and outgoing shipping transactions. Working with the right fulfillment partner can also help you identify specific inaccuracies and inefficiencies in your shipping process, so that you can make the necessary improvements in your supply chain management.
If you're in the process of looking for reliable and efficient e-commerce supply chain management services, here are some of the most important factors to consider.
Understand the Services Offered by the Fulfillment Partner
When looking into 3PL distribution companies, it's important to consider what types of services they offer. Standard supply chain management includes picking, storage, packing, and shipping. But some supply chain management companies may offer additional services such as kitting, high production assemblies, and flexible storage options to accommodate your growing brand's increasing needs. It's important to ask about these types of services before signing a contract with a company.
Make Sure They Leverage Modern Technology
Regardless of distance, modern technology is pivotal to fulfilling online transactions and delivery processes. When seeking out e-commerce fulfillment services, it's recommended that you inquire about their specific technological infrastructure to ensure they have the resources necessary to carry out your fulfillment processes.
Learn about Fulfillment Partner Support Services and Response Times
Order fulfillment is a very time-sensitive process. Customers expect that their orders are being worked on almost immediately after they've been placed. They want updates in real-time, so they can track their order delivery status and guarantee that it will arrive within a certain timeframe.
Communication and fast response times are crucial components of 3PL distribution because they demonstrate that these order fulfillment companies are committed to offering excellent customer service and consistently fast delivery options.
Look into Their Industry Experience and Past Track Record
Industry experience is another qualifying factor that indicates exactly what kind of procedural results you can expect from your e-commerce supply chain management company. That's not to discredit the expertise or work ethic of newer organizations, but it's a lot easier for businesses to make an informed decision about 3PL distribution standards when they have a past track record to make comparisons.
Get Insights about the Pricing of Fulfillment Services
Whether you're a new or more established business, you likely have a set annual budget allocated for fulfillment services. Partnering with 3PL order fulfillment services can actually get you significant price breaks or discounts on minimum orders and recurring payments. But remember that opting for the cheapest services isn't always a wise choice. You should look into what services each e-commerce supply chain management company has to offer at different price points and go from there. Consider whether the companies have specific order minimums in place and whether they will charge you extra for overages or if they offer more flexible shipping, returning, and storage bundles.
Lean Supply Solutions is a privately owned corporation that provides integrated customized solutions for complex logistics procedures. We provide diverse and innovative shipping and handling solutions to a wide range of companies across multiple industries across the globe. Contact us today to learn more.