Thursday, 16 September 2021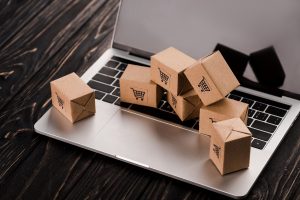 There's no such thing as universal one-size-fits-all supply chain strategies for e-commerce businesses. Every business has its own unique set of qualitative and quantitative supply chain standards, management requirements, and strategies that maximize efficiency and productivity with one common goal in mind: to achieve as much customer satisfaction as possible. A masterfully planned and executed e-commerce supply chain management strategy can help create positive customer experiences and perceptions of your business, which increases your brand value. A high brand value based on consistently meeting and exceeding customer expectations can lead to significant business growth in a relatively short period of time.
These are the top five supply chain order fulfillment strategies to help you reach new levels of e-commerce success in 2021 and beyond!
Use an Effective Warehouse Management System (WMS)
Warehouse operational costs can go through the roof, especially for larger facilities with a lot of inventory to store or move. Fulfillment and labour costs, not to mention the costs of purchasing and maintaining equipment can lead to massive budget overflows. With the help of a detailed and sophisticated warehouse management system, you can minimize your operational expenditures without compromising the quality or efficacy of your operations.
Ensure Better Returns Management
Returns are an inevitability in the retail industry. Whether customers were simply dissatisfied with the product they receive, it wasn't what they expected, or it was defective, every e-commerce business needs a reliable, reasonable, and effective method of handling returns. Using a digital barcode scanner to track all incoming and outgoing packages can help you stay organized and ensure that all transactions are properly processed in a timely fashion.
Stay Informed about the Velocity of Your Goods
Velocity of goods has to do with the amount of time it takes each product to sell from the time it hits the market, so to speak. This is usually determined by three important factors: the demand, affordability, and marketing of the product. Certain products are typically expected to move faster than others. Keep track of which products move faster, so that you can calculate your sales margins accurately and decide which items should be liquidated to reduce storage time and expenses.
Leverage Advanced Mobile Technology and Software Architecture Like SCPaaS
Supply Chain Platform as a Service (SCPaaS) effectively utilizes secure cloud-based platforms and digital storage solutions to store confidential business information and grant convenient access only to authorized personnel. Supply chains are a combination of multiplatform digital and brick-and-mortar entities that must work together in perfect harmony in order to yield positive results. All product movements in and out of facilities must be updated and recorded in a timely manner to ensure the utmost accuracy. Leveraging advanced mobile technology and software architectures effectively enhances large scale supply chain solutions for better capital gains.
Use Third-Party Logistics to Boost Supply Chain Management Goals
Trustworthy and transparent third-party logistics companies should have a proven track record when it comes to helping businesses establish efficient customized order fulfillment strategies that meet and exceed their goals. Internal fulfillment facilities often lack the space, personnel, and advanced technology to fully support massive business expansion whereas 3PL solutions are equipped to handle all levels of growth.
Lean Supply Solutions is different from other 3PL service providers. We take on a customers-first approach that ensures consumer satisfaction and on-time safe delivery methods are the top priority. We're able to accomplish this at every turn, even when faced with unthinkable circumstances, through the use of our advanced technological SCPaaS and Harmony Logistics Platform as a Service (HLPaaS) cloud-based system. Contact us today to learn more.