Warehousing and distribution services have never been more complicated than they are today. The digitization of the warehouse, the rise in customer expectations regarding delivery and customer service, and the competition of markets put a strain on overall operations. Here are the top 10 warehousing mistakes that many organizations make, and how you can avoid them to run a better business.
1. Lack of Inventory Accuracy
The most important responsibility in your warehouse management is inventory accuracy. Without using a warehouse management system or inventory management system, you will face serious challenges in your supply chain. Managing your inventory levels and ensuring accuracy between all your locations will not be possible without proper planning and software.
2. Failure to Optimize Picking Paths
Another common mistake organizations make is poor optimization of order picking paths in the warehouse. The most variable aspect in your warehouse is the cost of labour, and it can impact your profitability. You need to be sure that your warehouse workers are operating as efficiently as possible. To make the best use of their time and energy, you should carefully study the location of your items in relation to their pick speed. You should place products that are often picked together in close vicinity to each other as much as possible. Achieving this type of analysis can be very complicated, but with the right software packages you can resolve this challenge.
3. Holding Excess Inventory
A good practice when managing your warehouse is to reduce your inventory on a regular basis. When you hold excess inventory, you increase the chances that you have money stuck in stock. Items that sit at the back of your warehouse can become obsolete and forgotten, preventing you from making profits off those items. Reduce the levels of inventory as much as you can to gain a leaner supply chain. You can do this by receiving large orders in smaller batches.
4. Lack of Safety Policies
If your employees are constantly getting injured, they will need to spend more time off work or will work slowly to prevent their injuries from getting worse. If you try to cut corners or look the other way when there are workplace safety issues, you are making a grave mistake. Worker compensation claims can cost you a lot of money. Instead of waiting to apologize after an event like this, get proactive by optimizing your safety practices. Do your best to ensure that your workers are in a safe environment when they walk into work, and take the time to keep them up to speed on current safety procedures.
5. Poor Housekeeping
Messy warehouses aren't just hazardous, but they also obstract the flow of goods and people, reducing productivity. Establish a housekeeping routine by regularly tidying up and cleaning after every shift. This will allow the next shift to be more productive as they begin working in an organized and clean environment.
6. Neglecting Goods-in-Process
It can seem overwhelming to dispatch customer orders on time, but this pressure should not cause you to neglect the goods-in-process aspect of your supply chain. To avoid neglecting this process, assign dedicated staff to ensure that it is effectively maintained. Make sure that you have enough people responsible for receiving the goods.
7. Failing to Measure the Right Things
It's easy to get caught up in the obvious responsibilities of managing your warehouse, which is why many organizations forget to measure less obvious operations properly by overlooking important key performance indicators. One of these operations that are often forgotten is the goods receiving process. Good warehouse management means that you need to pay close attention to your entire environment, all the people involved, and every process.
8. Sticking to the Paper Process
There is no reason that you should still be using paper to document your workflow. There are so many options available in the digital realm that can optimize your documentation. Embrace the technology that is available to you by installing effective software to manage your data and inventory. It will also help you gain better visibility, so you know exactly where your products are at all times, how much you have in stock, and when you need to restock or filter out an obsolete item.
9. Lack of Proper Staff Development and Training
Another big challenge in warehousing is employee turnover. When a worker leaves an organization, there is a significant cost that comes along with it. Employees leave for various reasons, but one common reason is because they don't believe they are receiving the right amount of training and development opportunities to exceed expectations and grow. Employees that do not receive training and development opportunities also affect you. Without proper training, they're more prone to mistakes, thereby reducing quality and increasing inefficiency in your supply chain. You should ensure that there are detailed training plans for each position, and that every employee has a career development plan that is specific to their goals.
10. Failing to be Ready for the Future
You will set yourself up for failure if you don't plan for the future. If your company isn't constantly growing and evolving, it will eventually fall on its face. Although growth rates are different depending on the industry and company you manage, you should still consider your future growth plans. Ask yourself questions such as, how can we expand our current processes, what new technologies are available to help me be more efficient, and does our current infrastructure support growth?
How Lean Supply Solutions Can Help You
Lean Supply Solutions provides quality warehousing and distribution in Canada, California, and other parts of the USA. We are aware of the rising trends, technologies, and challenges organizations like yours faces each year and we can help you track and understand your metrics better. We commit to staying up to date on our clients' operational challenges and strive to help them get the most out of their processes. We offer consistent, accurate, and quality results by ensuring that the right products are provided to the right customers at the right time, while saving you money. Our services include warehouse pick-and-pack, contract logistics, manufacturing support, technology, warehousing distribution services, e-commerce fulfillment, consulting, and more. To learn more about our warehouse value-added services, or to ask any questions, contact us today!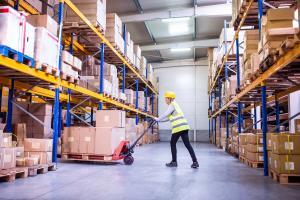 Like your business, your supply chain is a vast and complex network. Businesses need to source product from suppliers, who may also source materials and components from their own suppliers, and so on. If one part of this network faces a problem, it makes every part vulnerable. Having a deeper understanding of how supply chains work and how efficiently you can manage potential risks will help you resolve issues quickly. There are steps that you can take to cultivate resilience in your supply chain, which means you can better anticipate, react to, and recover from unexpected problems. If your goal as a business is to emerge stronger as the days go by, you can implement some of these steps to achieve supply chain resilience. Here are some tips to build a resilient supply chain, and how our supply chain services can help you.
Steps to Build a Resilient Supply Chain
Analyze the Risk
Analyzing the risk in your supply chain is your starting point. You need to understand what risks each of your suppliers brings to you, how significant these risks are, and how you can prevent them. By understanding the risks associated with each supplier, you can get proactive to protect your business against it. By analyzing the risk, you will gain an understanding of the maturity of your suppliers, and how capable they are of managing any issues that come up. Then, you can ensure that they have processes to mitigate their own risks as well.
Take the Long-Term View
As you build your supply chain, you should take your time and be proactive. A reactive solution that involves just-in-time procurement and managing cash flow raises the risk of your business facing challenges. It's common for organizations to forget that incentives to save money can also bring serious risk because they focus on perceived short-term benefits instead of having a long-term view. By having a proactive solution, you can review potential threats and ensure that you are not spending too much for possible risks. From this larger perspective, you can create a better strategy for yourself and your suppliers.
Centralize Your Risk Monitoring
By centralizing your risk monitoring you will save time, resources, and confusion. There are many tools in the market that can help you monitor your supply chain and build a responsible one for various risks. The goal is to keep your data consistent within that framework. You will need to host your own facility data, supplier data, and third-party risk data in one place.
Be Targeted
After identifying the risks in your supply chain, you should develop mitigation strategies that are sensible and innovative. Sensible mitigation strategies simply mean you are choosing a strategy that caters to the specific risks in your supply chain. It should be a quick and effective solution that is appropriate and cost-effective. In terms of innovation, you should constantly be updating your strategy with your suppliers to find even better ways to reduce risk. There is no one size fits all solution, which is why you should be targeted in your approach.
Communicate What You're Doing
Your consumers, partners, suppliers, and investors need to know that you are responsible to the environment and your communities. This requires effective communication of what steps you are taking to mitigate risks head on. Doing this will be good for your brand and create new opportunities to expand. A great tool to illustrate improvements in your performance is analytics.
Evolve Your Approach Through Lessons Learned
Despite being proactive, things may still go wrong. However, it's how effectively you respond to these hiccups in your supply chain that will keep it operating well. Be sure to take note of any lessons learned about the risks that happened and how you responded to them, so that you can create a database of best practices. These learnings can be applied to your overall supply chain management strategy and can be taught to your employees to improve chances of future success.
Benefits of a Resilient Supply Chain
Availability
The first benefit of a resilient supply chain is availability. With quality operating systems, you can access real time inventory data and adapt to global constraints. This gives you and your suppliers peace of mind during unexpected weather-related events and catastrophes. Even if one location gets hit with a blackout, you can still access the latest information on your system elsewhere at the click of a button.
Flexibility and Configuration
Unexpected disasters do occur, and your business needs to be able to respond to these challenges. Using cloud-based software, you can be ready for anything with original configurations from any device, without needing to set up a new system. Resilient supply chain management also allows you to collaborate with your vendors to adjust the flow of products based on changes you make at your facilities or distribution points. This interconnectedness allows you to have full control of how you manage your inventory and respond to challenges.
More Control
Total control in your business means knowing and seeing exactly where your inventory is at anytime. By obtaining cloud-based software and working with a third-party logistics provider, you can have a single view of your inventory across your entire network. This visibility gives you more control over your business.
Contact Lean Supply Solutions for Low-Risk Supply Chain Management
With the right supply chain management, storms can come and go without affecting your business. With resilient cloud solutions, quality inventory management, and other beneficial supply chain services, you can prepare for future challenges and be ready with solutions that help you and your suppliers.
A third-party logistics supply chain provider can help you deal with the challenges of a growing business, whether you are a small- or medium-sized organization. With their supply chain services in your hands, you can benefit from their efficiency and talent, as well as many other advantages such as supply chain management software and technology that increase visibility and communication between you and everyone in your business network.
If you are looking for the right company to partner with, Lean Supply Solutions is the answer. We rise to the challenge of meeting our clients' needs through our services which include product fulfillment, warehousing and distribution, e-commerce fulfillment, warehouse pick and pack, order fulfillment, and more. To learn more about outsourcing to our supply management in Toronto and Vancouver, or to ask any questions, contact us today.