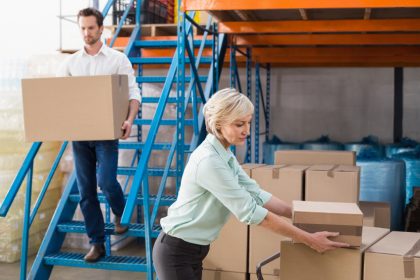 E-commerce is a rapidly growing sector. Having your business sell through cyberspace—or even exist purely on the Internet—affords a great deal of flexibility and agility that can help small retailers stay competitive. This edge is at increasing risk, however, as big-box stores begin to step up their online presence. In light of these heavyweights and their superior resources, supply channels, and infrastructure, it can be daunting for small businesses to try and carve out their own share of the market. It's very possible to do so, however. All it takes is some help.
 Swing Big With 3PL Warehousing and Distribution
Small- and medium-sized businesses can get the same kind of reach and breadth of big-name companies by taking advantage of  third-party logistics (3PL) services. 3PL companies provide an integrated warehousing, packaging, and parcel-delivery operation, as  well as e-commerce fulfillment services that let you enjoy an established distribution network at a manageable cost.
The Keys to 3PL Efficiency
3PL firms create efficiency by pooling resources and clients. This allows you affordable rates and numerous savings on supply-chain elements that might otherwise be out of your reach.
Warehousing
A 3PL company maintains an extensive warehousing operation that is likely exceeds your own business needs. You can take advantage of this by only paying for the space that you require. This creates a flexible environment where you can easily scale your warehousing operations up or down, depending on seasonal shifts, for maximum efficiency. As a bonus, warehouse staff does the pick-and-pack services for you so that your personnel costs are even lower.
Shipping Networks
One of the biggest differences between using a 3PL provider and trying to go it alone is how it affects your efforts to ship products to customers. Most shipping providers offer bulk discounts on their rates, but you may not have the necessary volume to take advantage of this. A 3PL provider takes care of the shipping needs of multiple firms at once. Together, this combined workload creates more than enough shipping volume to let a 3PL firm get you the best rates possible. Since one of the biggest points of competition in e-commerce is shipping costs, you can pass these savings on to your customers and maintain a competitive edge.
Efficient and Effective
Lean Supply Solutions is a third-party logistics provider that uses Lean Methodology to help clients by overseeing all elements of the supply-chain. Our e-commerce fulfillment services are part of our proven philosophy of eliminating any operations, equipment, or resources that are not capable of adding value to your supply chain. By ensuring that products are provided the right service at the required time, we offer consistent and predictable quality results. To learn more about the Lean Methodology and how we can use it to help your business, give us a call at 905-482-2590.