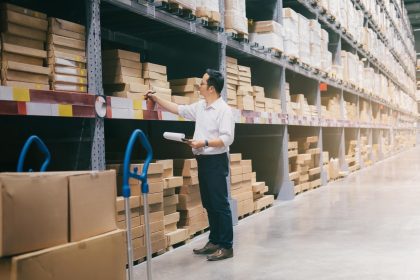 There are many decisions for business owners to make throughout all aspects of the supply chain. When customers return items that have been unsatisfactory, defective, or unnecessary, it can cause delays and complications if the business does not have a proper reverse logistics solution in place. What is reverse logistics? Why is this strategy so important to the success of your business? Here's what you need to know.
What is reverse logistics?
Reverse logistics deals with all operations in the supply chain related to the reuse of materials and products. Essentially, it is the process of planning, implementing, and controlling the cost-effective and efficient movement of raw materials, inventory, finished goods, and relevant information from the point of the consumer, to the manufacturer. The purpose of a reverse logistics strategy is to effectively recapture value from customer returns, or properly dispose the product or materials.
What is the difference between reverse and traditional logistics?
The difference between reverse logistics and forward or traditional logistics deals with the planning stages of each. The purpose of a third-party logistics (3PL) company or a business is to effectively get their product to the customer within a reasonable shipping price and time. Reverse logistics is much different, as shippers generally do not initiate such activity as a result of planning and decision-making of the business. Reverse logistics is more of a solution implemented in response to consumer actions.
How much does reverse logistics cost?
Generally speaking, reverse logistics ranges in cost depending on the 3PL provider, and the needs of your business. No two clients have the exact same solution in place, and the costs cater to each solution and the requirements of the client. The real question is whether or not reverse logistics is worth it. Many companies who do not have a proper reverse logistics strategy miss out on valuable materials and products because they do not have a system in place for recycling, reusing, or safely disposing returned products. Additionally, a successful reverse logistics solution increases customer satisfaction and brand loyalty, because customers are better able to get assistance with finding the right products, or getting a replacement product within a reasonable time. In short, reverse logistics can actually save you more money in the long run.
How quickly do you process orders?
The turnaround time all depends on the needs of each client. The typical maximum for a 3PL company is approximately three days, but the ideal goal for a provider is to process orders in much less time. Working with a 3PL provider is beneficial because these companies are experienced with handling returns efficiently, and getting a solid turnaround as quickly as possible.
How well do you manage high-volume returns?
We have worked in the business for many years, and have dealt with both high-volume and low-volume returns for our clients. We are able to efficiently provide you customized solutions that meet your expectations and get you the results you're looking for.
How does reverse logistics reduce risk to the business?
A good reverse logistics strategy needs to include processes to protect data. This is an important feature of reverse logistics because a company's sustainability is measured by its ability to keep customers happy, while also reducing its carbon footprint. If there is a data breach, this can decimate a company's customer base. While many companies do not make recycling an important part of their supply chain, it can be a huge asset to improving brand reputation. Business owners should have a sustainable plan to deal with end-of-life equipment, recalls, remanufacturing, and equipment failures. This is where recycling items can strengthen your business, as it provides an additional source of income from the sale of items after they have been recycled. A sustainable reverse logistics strategy can provide endless benefits, from eliminating fines from government organizations for improper disposal, to improving the public perception of the company.
Outsource Your Reverse Logistics Strategy to Lean Supply Solutions
If you want to benefit from reverse logistics solutions, consider working with a reliable 3PL provider. At Lean Supply Solutions, we handle every part of the supply chain from beginning to end, so you can focus on other important areas of your business, like marketing and sales. If these solutions interest you, contact us and we can explain how our services can help you. We rise to the challenge of meeting our clients' needs through our services which include supply chain management, green transportation and logistics, product fulfillment, warehousing and distribution, reverse logistics in manufacturing, e-commerce fulfillment, inventory management, warehouse pick-and-pack, and order fulfillment. Lean Supply Solutions is able to offer consistent, accurate, quality results. To learn more about outsourcing to our 3PL distribution team, or to ask any questions, contact us at 905-482-2590.