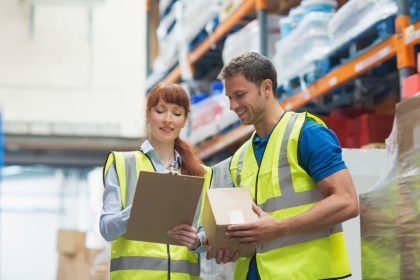 When outsourcing to a 3rd party logistics (3PL) warehousing provider, your business can acquire several key benefits that increase supply chain efficiency and fulfillment productivity. When considering whether or not to outsource your warehousing needs, keep the following in mind.
Benefits of Outsourcing Warehousing and Distribution
Simplified Workflow
Warehousing is not a single process; it involves coordinating multiple individuals, some of whom might be from different companies. Trying to coordinate between freight carriers, warehouse workers, drayage operators, and more can start making your workflow charts a headache to read. When outsourcing, this process becomes much simpler because all of these roles are filled by the same company. This ensures that everything is kept on track and coordinated, as well as makes communication easier.
Saves Costs
Maintaining a warehouse, its equipment, and the necessary staff is an expensive endeavour. However, you do not need to pay all of these if you engage with a 3PL warehousing provider. This is because 3PL companies usually have multiple clients that use their facilities. By allowing clients to only pay for what they need, these companies are able to diffuse operational expenses and businesses get to see lower costs than if they tried going at it alone.
Lets You Focus on the Core
Unless your core business is already shipping and warehousing, chances are you have better things to do than devote time and energy to running a warehouse. Outsourcing allows you to focus more on your core business operations while knowing that you have a talented and experienced partner fulfilling your warehousing needs.
Flexibility
It's natural for businesses to grow and shrink over time and e-commerce and retail operations naturally see peaks and valleys depending on the time of year. 3PL warehousing services are flexible and scalable so you can dial down or ramp up the storage and distribution services on an as-needed basis, creating a more efficient and productive supply chain as a result.
Location, Location, Location
If you were to run your warehousing or distribution efforts in-house, you would quickly find yourself held back by location. Unless you have the finances to establish multiple distribution centers or warehouse sites, your potential delivery radius is going to be constrained. 3PL warehousing providers already have multiple facilities that you can choose from, so you can not only pick the site that works best for your business's needs, but also jump right in and get started without needing to wait for building and hiring.
Reasons to Outsource Warehousing and Distribution
If you find yourself looking to improve in any of the following areas, you should consider the possibility of outsourcing your warehouse and distribution needs to a 3PL provider:
You are looking to create a more unified and efficient warehousing operation
You want to expand into new geographic areas but lack the distribution infrastructure
You find it difficult to split your time and focus between warehouse management and growing your business
You want to avoid gaps in productivity that come from needing to find and hire new warehouse workers in anticipation of spikes in demand
These problems and more can be solved with Lean Supply Solutions and our Lean Methodology. This is a proven philosophy that is based around eliminating any operations, equipment, or resources that are not capable of adding value to our clients' supply chain, warehousing, manufacturing, fulfillment, or distribution efforts. By striving to ensure that the right products are provided to the right customers at the right time, Lean Supply Solutions is able to offer consistent, predictable, and quality results.
To learn more about the Lean Methodology or Lean Supply Solutions' warehousing or distribution services, or to ask any questions, give us a call at 905-482-2590