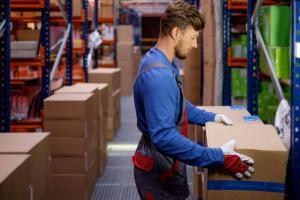 Recessions are inevitable cyclical occurrences during times of severe economic downturn. Essentially, what this means is that recessions are the direct result of national or global events such as the COVID-19 pandemic that cause the general public to stop spending money or limit their spending as much as possible.
Supply chain companies are especially hard hit during these tough times as the demand for residential and commercial product shipments usually takes a massive nosedive. Since a lot of people have been laid off indefinitely during this pandemic, their primary goal is to save money and only spend it on essential items like groceries.
Even though a lot of businesses in Canada are slowly entering into the next phases of reopening their doors, the threat of COVID-19 is still effervescently looming in the air. And that means many supply chain distribution and management facilities have either completely halted or slowed down their production lines to accommodate the changing economic climate. While many cross-border shipments have continued through the pandemic, the process of supply chain fulfillment in many sectors has slowed down due to heavy regulations and precautions.
Here are a few logistics management tips to help recession-proof your supply chain as you prepare for the foreseeable aftermath of the current economic downturn.
Diversify Your Business and Supply Chain Partnerships
As any experienced logistics management team knows, it's important to perform regular systematic and in-depth assessments of all of your current business practices and partnerships. This can help you identify inconsistencies, inaccuracies, inefficiencies, quality control deficiencies, and any other potential issues that may inadvertently be slowing down your processes early on.
Even a healthy and profitable economic climate demands routine business and supply chain efficiency assessments to ensure that you're always prepared in the event of a recession.
Maintaining strong business partnerships and diversifying your professional relationships can help you ascertain better financial security during the tough times. Take the time to carefully assess the capabilities of your supply chain to deliver goods and services, the demand of your products and services during high and low times, and the quality and type of equipment used by your supply chain logistics management team.
Keeping all of this information in your back pocket will not only help strengthen your existing logistics management partnerships in the good times and the bad, but it'll also help you establish meaningful and lucrative supply chain partnerships in the future.
Prepare Several Feasible Contingency Plans
Financial and supply chain contingency plans are essential for any business to survive a potential or incoming economic recession and evade total ruin. After a few good quarters where businesses have managed to stay in the black, many business owners seem to inexplicably develop a false sense of thinly veiled financial security that they falsely believe will carry them through the most severe economic downturn. Unfortunately, a lot of these businesses are in for a rude awakening.
Without a reliable contingency supply chain (or several) in place, you could be forced to stop production on very short notice or no notice whatsoever. Not only will you be forced to absorb the loss and financial risk involved, but in light of these unpredictable and precarious financial times, there's no telling whether or not you'll be able to recoup those losses in the future.
Securing a reliable contingency supply chain and logistics management partnership from the very beginning or before an economic downturn occurs isn't just a smart business strategy; it also provides you with an alternate channel of product fulfillment, retail distribution, and manufacturing support when you need it most.
Streamline the Process through Automation
Modern technology has made it a lot easier for businesses to streamline their practices and processes through automation. By storing important information such as order details, invoices, client preferences, fulfillment and delivery timelines, etc. on a secure cloud network, you can conveniently track each order, update part and product inventory, identify potential problem areas that are slowing down the process, and make necessary adjustments automatically.
If you happen to notice an issue during the production process, automation allows you to quickly communicate the problem to the supplier so that they can quickly implement a feasible remedy and step up their quality control procedures.
Establish and Maintain Proper Communication at Every Level
One way to sidestep or mitigate potential production hindrances during a recession is to maintain strong levels of communication at every level of the operation. From your frontline production workers to warehouse managers and beyond, it's important to thoroughly understand every step of your production process so that you can work toward finding feasible solutions in the event of an economic crisis.
Recessions are notorious for causing strategic and production-based standstills as the supply of the products and parts begins to outweigh the demand. Sometimes this process is a slow burn that can take place over the course of a few weeks or months, giving you more time to prepare. But in the case of rapid business and government shutdowns due to rising public health concerns, it can be swift and unrelenting.
Unfortunately, a recession such as the one we're currently facing could result in a sudden massive surplus of inventory, particularly in the farming and food production sectors. What's worse is partnering with a supply chain that suddenly doesn't have the resources, capacity, or sufficient personnel (e.g. warehouse workers, delivery truck drivers, etc.) to fulfill orders.
Outsourcing your supply chain operations can help you mitigate a lot of these issues by placing the burden of order fulfillment responsibility on the logistics management company you hire.
If COVID-19 put a huge wrench in your company's supply chain operations, Lean Supply Solutions can help you build up a strong, efficient, reliable, and responsive end-to-end logistics management strategy that perfectly suits the needs of your business. With an emphasis on order fulfillment, tracking, and fast delivery times, our supply chain professionals are here to help you get through the tough times.
To learn more about our exclusive logistics management solutions and to get a free no-obligations quote, contact us here.