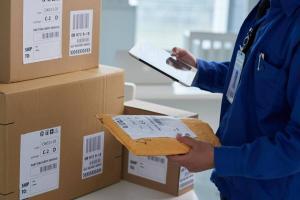 Small business owners have a lot of responsibilities, from running their backend operations to hiring the right personnel to help them realize their business goals and provide excellent customer service. 
In the modern age, e-commerce is the natural next step to growing your business. But you have to plan your e-commerce venture carefully to ensure that it's successful—this is not a space that you can or should just dive into without a plan or safety net. As a novice small business owner, you're not expected to know everything right off the bat. And you're bound to make a few mistakes along the way. Nonetheless, you should try to come up with a tangible plan to help see you through the more challenging times of running your business.
Nowadays, customers simply expect more from the businesses they support—accurate package tracking, faster shipping timeframes, a special unboxing experience, and ultra-sanitary shipping conditions, just to name a few. Essentially, they expect total supply chain transparency. Given the current state of the world, they're entitled to it. It's important to not only understand these needs, but to do everything in your power to meet them and show your customers what you're doing to improve their experiences with your company.
With that in mind, let's delve into the top five things you should know about the logistics and product shipping side of business management.
1. Order Volume 
Small businesses typically have lower overhead costs than large enterprises because they carry fewer products. However, the cost of shipping products can be significant for small businesses because they don't have access to the same resources as larger businesses do. Figuring out the logistics of shipping your products out to your customers is extremely important.
Start by contacting distributors and negotiating shipping rates to see if you can cut down the costs. Shop around to a few different distributors until you find one that can work within your budget and logistics strategy. That way, you can fulfill your order volume and charge your customers a fair shipping fee.
2. Take Packaging Precautions 
Packaging is another important aspect of the logistics side of your business. It should be unique and branded, so that customers can instantly recognize the shipments they receive from your company. The packaging should also reflect the nature of the product that's being shipped.
Fragile items require a little extra packaging like different internal compartments or packing peanuts and Styrofoam to secure them in place and prevent breakage during transportation. If you're shipping products nationwide or internationally, remember that different regions have specific product and packaging regulations that must be met.
The type of product you're shipping also influences the dimensions of your packaging. Small items can usually be shipped in bubble-lined envelopes for protection, whereas larger items should be shipped in boxes. Make sure your shipping and logistics budget accounts for the different types of packaging you may require for your various products.
3. Product Shipment Tracking 
In light of the COVID-19 pandemic, more and more people are relying on online orders for their basic needs including clothing, groceries, etc. While this trajectory was always on the horizon, the pandemic has accelerated the need for greater supply chain transparency. With more people depending on online orders and deliveries, it's crucial to give your customers and your staff the ability to track product shipments.
Customers want to know exactly when they can expect their products to arrive at their destinations. They also want to know what precautions are being taken to ensure their products are shipped safely and completely intact without any delays or issues. Supply chains and distribution centers are considered essential services and many have been operating overtime just to meet their tight deadlines. Product shipment tracking is mutually beneficial to customers and supply chain personnel. In case of a delay or problem with the shipment, each package is assigned a specific order number that can be electronically traced, so that the location is always made available.
4. Get Comprehensive Insurance 
A comprehensive order shipment policy protects your business and gives your customers peace of mind when they purchase a product from you. Make sure your insurance policy is clearly stated either on the online order form or during the ordering process, so that there are no surprises. Your insurance policy should be clear and concise. It should state exactly what steps customers can take in the event that their order doesn't arrive on time or if it somehow gets lost in transition.
Package tracking is one form of insurance in the sense that it reassures customers that they can find out the exact whereabouts and stage of the shipping process their parcel is in at any given time. There's always the chance that something can go wrong during the shipping process. Packages get misplaced, lost, or stolen. As a small business, you have the option of either purchasing product shipping liability insurance or you can offer this to your customers for a small additional fee during checkout.
5. Delivery Timing and Destination 
A major part of transparency and product tracking is letting your customers know when their orders have actually been delivered. Package tracking technology allows customers to check the trajectory of their orders, but sometimes they can forget to log in to the application.
As your business continues to grow, you can start sending out automatic text or email notifications every time a package is delivered, so your customers know when to pick it up from its designated destination.
Trust Lean Supply Solutions to Deliver Your Packages on Time
As a privately owned corporation, Lean Supply Solutions is committed to providing innovative logistics, distribution, and supply chain solutions to all of our customers on a national and multinational level. We incorporate a unique blend of lean processes, cutting-edge IT systems, and applications of world-class quality systems to deliver quantifiable value for our clients. To learn more about our state-of-the-art logistics processes and how we can help you expand your supply chain, contact us.