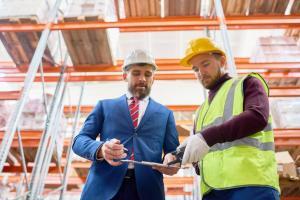 Strong leadership skills aren't just an industry-wide preference for the supply chain, logistics, and warehousing industry; they're crucial attributes that directly or indirectly contribute to the successful functionality and execution of specific operational standards.
Preparation, experience, and foresight are three of the most important attributes of being a good leader in any industry. However, even the most experienced and level-headed leaders aren't immune to certain strategic and unprecedented blind spots.
Black swan events can happen to anyone and these types of situations are proof that it's essential to have a workable contingency plan—or several—in place at all times in case something goes awry. Risk potential is always prominent in business ventures, regardless of size or stature. But black swan events are a special kind of breed in their own right.
What Is a Black Swan Event and How Can It Impact Your Business?
Black swan events are characterized and defined by three unique traits:
Total unpredictable or something that's unforeseeable
Having a severe impact on a person, a group of people, society, or a business
The overpowering and often misguided belief that hindsight can rationalize the specific event in question and its impact (e.g. we should have seen it coming given the overwhelming evidence at the time of the event)
Basically, the nature of the black swan event eludes predictability and it's therefore considered to be unprecedented, which is why we often lack adequate preparation or mitigation for such an event. By many accounts, the COVID-19 pandemic could be considered a global black swan event as it ticks off all of the characteristics mentioned above.
How to Offset the Effects of Black Swan Events for Your Supply Chain
Given the fact that black swan events are typically unpredictable and unprecedented, you might be under the false impression that there's nothing you can do to prepare your supply chain for such an event. The responsibility of supply chain leaders is to do everything in their power to try to minimize the amount of risk incurred during a black swan event. That implies the perpetual need for several contingency plans to be put in place well ahead of time to help mitigate the damages caused by black swan events.
Here are five factors supply chain leaders should consistently employ in their operations.
Clear and Effective Communication across the Board
When it comes to running a successful manufacturing, distribution, and delivery business, the lines of communication across all channels must be clear, concise, and consistent. Basically, everyone in your organization from the top-level figureheads right down to the warehouse and manufacturing associates, all need to be on the same page at all times.
True leadership is the embodiment of a concrete understanding of all levels of your business and that includes the supply chain operations.
Black swan events demand excellent communication skills so that you can steer your company, shareholders, team leaders, and associates in the right direction and everyone knows exactly what they have to do to get there.
Awareness of Disrupting Factors
It's a given that you need to know the ins and outs of your business and that includes your supply chain operations. Otherwise, you have no way of knowing the day-to-day challenges and shortcomings of your business.
Additionally, a lack of knowledge and awareness of these challenges can also create huge blind spots for your business, leading to a breeding ground for disrupting factors to reign supreme.
A big part of risk management is actually being aware of the types of risks your business stands to face. But it also entails being prepared for the risk and disrupting factors that aren't always so obvious. It's like steering a ship across the Atlantic knowing that there are icebergs out there, but not preparing for storms.
Form a Rapid Response Team for All Kinds of Events
Although it's impossible to ever be fully prepared for black swan events given their unpredictable nature, supply chain leaders can and should form general service rapid response teams for a variety of situations.
Inclement weather, traffic delays, accidents, geopolitical conflicts, and global health crises are just some of the potential risk factors the supply chain industry faces. These are all general facts of life. But the specific situations and how local, regional, and federal governments respond to them are entirely unique.
Situation-based rapid response teams can help your team better navigate and mitigate these issues to maximize production and fulfillment during black swan events.
Empathize with the Situation
Empathy is always in high demand, but most often in short supply. Black swan events are typically high-stake situations that range from devastating natural disasters to global health crises, or even diplomatic discrepancies.
These are all high-stress situations that not only directly impact your customers, but they also have an emotional and physical impact on your team members. Keep that in mind when you're putting together a rapid response team for your supply chain.
Business and Supply Chain Flexibility
COVID-19 has forever changed the way most businesses do business. As new challenges continue to arise out of the woodwork, your business and your supply chain protocols need to remain flexible enough to adapt to the new standards being put forth. Black swan events are unpredictable and therefore, you need a supply chain operation that can easily adapt to each new situation accordingly.
Black swan events can happen at any time and anywhere. As our name implies, Lean Supply Solutions is committed to providing our clients with the support, expertise, and logistical solutions to help them overcome the unforeseen challenges of black swan events. We can help minimize the risk factor for your business while maximizing and streamlining your supply chain productions.
Contact us today to get a free quote and learn more about our supply chain services.