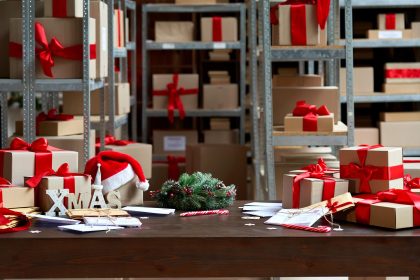 The holiday season is quickly approaching, and that means it's time to start preparing for your busiest time of year. One of the most important aspects of a successful holiday season is ensuring that your shipping fulfillment process is smooth and efficient. This can be a daunting task, but don't worry – we're here to help! In this post, we will give you some tips about how to prepare for holiday shipping fulfillment, as well as some advice on how to contact a fulfillment company.
1. Get Your Inventory Ready
As the holidays approach, e-commerce businesses begin to prepare for the surge in online shopping. One of the most important tasks is to get your inventory ready for holiday shipping fulfillment. This means ensuring that you have enough stock to meet demand, as well as ensuring that your products are properly packaged and labeled. Additionally, it's important to create a shipping schedule and plan ahead for any potential delays.
2. Encourage Customers to Start Shopping Now
If you sell products online, it's important to encourage your customers to start their holiday shopping early. There are a few key reasons for this. First, it helps to spread out the demand so that you're not overwhelmed with orders all at once. Second, it gives you a chance to build up inventory in case some items sell out. Finally, it allows customers to take advantage of early bird specials and other promotions.
3. Offer Custom Holiday Packaging
While it can be tempting to just throw everything into a box and send it on its way, taking a few extra steps to ensure that your products arrive safely and in good condition is always worth the effort. One of the best ways to do this is to offer custom holiday packaging. By investing in branded boxes, bags, and wrapping paper, you can give your customers a truly unique unboxing experience that will make them feel valued and appreciated. Plus, with your branding front and center, you'll be sure to stay top of mind long after the holidays are over.
4. Prepare Your Returns Management Process
One of the most important, and often overlooked, aspects of shipping fulfillment is returns management. During the holiday season, when shipping volumes are at their peak, it is essential to have a streamlined process in place for handling returns. By taking the time to prepare in advance, you can avoid the rush of dealing with returns at the last minute.
5. Outsource Your Fulfillment Process
By outsourcing fulfillment, businesses can focus on other aspects of their operations, such as marketing and customer service. In addition, you can take advantage of the expertise of a fulfillment center that is experienced in handling high volumes of orders.
Lean Supply Solutions is a scalable company that uses Lean Methodology to help its clients. We are aware of the rising trends in the industry and always strive to stay up to date. We commit to awareness of your operational challenges, especially during the busy holidays, and will help you have a successful season. If you're considering upgrading your business by working with our 3PL distribution team, contact us today.