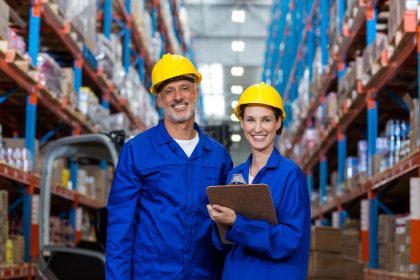 Supply chain disruptions are often unpredictable and can happen at any time. With a multitude of unforeseeable factors to consider from global pandemics to international skirmishes, there's no telling how certain events will impact the ebb and flow of your supply chain operations. If there's anything we've gleaned from the COVID-19 pandemic and its domino effect on the global economy and healthcare systems, it's that all businesses need to employ stringent supply chain risk management strategies to prepare for and mitigate any future issues that may arise. Going forward, here are a few actions you can take to guarantee the continuous health and operational well-being of your supply chain operations to prevent disruptions and financial losses.
Conduct Internal Risk Management Assessments
Internal risks are vulnerabilities that exist within your organizations supply chain and business operations. Anticipating and mitigating these risks before they have a chance to become tangible problems is crucial to the survival and success of your business. Fortunately, internal risks are a lot easier to predict and mitigate than potential external risks because they're practices and tools that exist within your organization. Common internal supply chain risks include manufacturing or production delays, insufficient planning or data collection, inefficient workflow, improper communication, etc. Conducting routine internal risk management assessments can help you understand where these issues stem from and
how to correct them
.
Implement a Feasible Contingency Plan
Once you've aptly identified the internal risks your supply chain faces, you can put a comprehensive preventative contingency plan in place to better manage and mitigate these problems. In fact, you should have several contingency plans in place for each situation that prioritize preparedness for worst-case scenarios, prevention, response, and recovery methods. Securing solid contingency plans in preparation for possible disasters or disruptions ensures business continuity even during the most challenging times.
Improve Supply Chain Visibility
Undetectable and unpredictable external risks are also a major course for concern when it comes to supply chain management. It's important to routinely assess potential risk factors that could negatively or positively impact your business's supply chain operations. While you can't control what goes on in the outside world, you can control the proactive actions you take to mitigate the potential risks or disruptions your organization faces as a direct result. Just as you should conduct internal risk assessments, you should also conduct routine external risk assessments to help you create multiple workable, effective, and well-rounded supply chain risk management strategies that encompass both internal and external factors. Third-party suppliers face a number of external risks such as geopolitical unrest, economic downfalls, logistical issues, etc. Supply chain visibility and proper planning allows companies to plan for and implement effective contingency plans to work around these external risk factors if and when they occur.
Also Read: Top 10 Tips to Reduce Your Supply Chain Costs
Monitor Risks Regularly
Ongoing situations that are unfolding in real-time require constant monitoring to prevent them from destructively impacting your supply chain operations. Certain contingency or backup measures need to be put in place to enforce business continuity and minimize losses as much as possible. In order to successfully mitigate losses, you need to keep a close eye on external and internal risk factors that could impede your supply chain trajectory. Using state-of-the-art industry technology to track supply chain risk factors as they happen is paramount. Invest in the right technology and software that allows you to keep tabs on potential and actual risks in real-time. Artificial intelligence has and continues to make great strides in this field. If you're not already doing so, make sure you incorporate AI into your existing supply chain risk management strategies.
Make Risk Assessment Part of the Onboarding Process
Risk assessment should be one of the key factors you consider when onboarding or choosing to work with a new supplier. Find out whether your prospective suppliers have robust risk assessment and mitigation plans or strategies within their own organizations before entering into a work partnership and get it in writing. This will guarantee that all of your bases are covered in case of a mishap or unforeseeable event that could result in processing delays. Communication is also an important factor. Suppliers should be in constant communication to provide updates on any disruptions or delays that may occur. Automated workflow updates can be issued as soon as new information is available so every step of the supply chain process coincides together.
Outsource Your Internal and External Risk Management Team
Every company needs a reliable and experienced risk management team that can help anticipate, identify, and mitigate potential supply chain risk factors. You need a team of individuals who have an eye for detail, access to advanced technology and AI software, and the proper training to predict any risk factors your company might face in the future and who can present feasible solutions to help you bounce back quickly. A multifaceted internal risk management team is responsible for sourcing key vendors, performing background checks, re-routing deliveries as needed, and even replacing high-risk vendors or manufacturers based on productivity levels, location, and cost-efficiency. Outsourcing an external and internal risk management and assessment team is also a more cost-effective solution than relying on a very limited in-house network.
Manage Environmental Risks
Environmental risks include external factors such as inclement weather conditions, geopolitical conflicts, international health problems, and the list goes on. All of these risk factors are out of the hands of supply chain networks. But with proper planning and preparation, there are ways to get around them without incurring exorbitant costs. That's where the help of an experienced supply chain management team comes in.
Improve Cyber Supply Chain Risks
All supply chains rely heavily on online networks to function. Hence, you need robust cybersecurity measures and protocols in place to protect your sensitive data. Train all of your staff in using effective cybersecurity measures to prevent data breaches and compliance issues. In the event of an attack or attempted attack, you should have firewalls in place to safeguard all confidential data and backup systems in place to restore lost data.
Get a Risk Management Assessment from Lean Supply Solutions
Lean Supply Solutions
provides in-depth risk management assessments and solutions for domestic and international companies across North America.
Contact us
to learn how we can help you improve your supply chain operations and grow your bottom line.