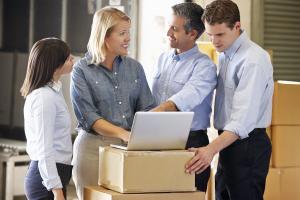 Whether you are a new or experienced business, growth is always your goal. You hope to offer better services to your customers, so you retain those you have, and gain new ones. This isn't possible without an efficient and successful order fulfillment process. With so many moving parts, it is a challenge to be on top of everything, which is why these tips can help you get started and learn where to find the support you need.
What Does the Order Fulfillment Process Look Like?
The following is a step-by-step list of what the order fulfillment process entails:
Order is received from the customer in person, over the phone, via email, or web site.
Order is entered into the office ERP system or accounting platform.
Customer receives notice that their order has been received.
Order is sent to the warehouse.
Order is picked by warehouse staff.
Order is packed and prepared for shipping with labels.
Order is shipped from the warehouse to be delivered.
Customer is notified that their order is on the way.
Transport service delivers item to customer's door.
Customer is notified that their order has arrived.
Fulfillment Process Challenges
Demand Planning
Demand planning is the process of using software and data history to predict the level of demand a product will have. This information can help companies know how many of each product to have on-hand in their warehouse, and how much effort they should put on marketing and promoting certain products.
Inventory Management
Successful order fulfillment involves meeting customer expectations, but this is impossible to accomplish without inventory management. Knowing what you have in stock, and how often to restock products is necessary to providing visibility to your customers and helping them measure expectations when items are delayed or backordered.
Supply Chain Implementation
When your inventory gets low, how quickly can you restock? How fast do your manufacturers work to produce more products for you? How long does it take for these products to arrive at your warehouse? These are important questions that need answers, as they impact your order fulfillment. A third-party logistics (3PL) provider can help you with supply chain implementation and ensure every part moves as it should.
Logistics
Logistics involves shipment and delivery. How long will customer orders take to get out of your warehouse? To their doorstep? How will the items be handled? Do you have tracking capabilities in case of any mishaps? This is another important aspect of running efficient fulfillment services.
Strategies to Improve Fulfillment Services
Classification of Inventory
You can classify your inventory to improve your operations. For example, fast moving inventory can be placed near the front and slower moving inventory can be further back in your warehouse. This saves your pickers' time and makes their jobs more efficient. Popular items should always be at a central location that is easily picked, packed, and delivered to the shipping dock. The more logical your classification and organization, the more time you'll save while fulfilling orders.
System Integration for More Visibility
To save time and be more efficient as you fulfill orders, you need to ensure you have visibility across your supply chain. This includes demand forecasting, sales, inventory, logistics, and more. System integration through an ERP system can help. It works by maintaining financial data, inventory systems, and logistic systems that manage the processes for picking, packing, and shipping.
Automate the Process
After gaining visibility across your supply chain, you need to see how you can automate or speed up individual processes. Automation does not always require robotics or conveyors but can be as straightforward as investing in barcode scanners so your warehouse workers can quickly enter inventory information as they work. They can scan items as they arrive in and out of your warehouse, which automatically updates the inventory count on your software.
Communicate with Customers
At each step of your process—shipping, delivery, arrival—you need to keep your customer updated. They can manage their expectations as they see where their order moves along the chain, and you can benefit from their patience as you work through any hiccups that may occur on occasion. This requires updated, on-demand, real-time communication that can only be provided by an experienced 3PL provider.
Choose Lean Supply Solutions to Manage Your Fulfillment
As you can see, there are many challenges to overcome, but there are solutions for each of them. From organizing where you store your items in your warehouse, to implementing automation to save time, the solutions available can help you get the most out of your warehousing and run a more efficient business. Unfortunately, unless you only sell a few items or a small stock, managing all these processes on your own isn't possible. That's why there is great value in partnering with a 3PL provider to handle all of this, so you can focus on other important parts of running your business.
At Lean Supply Solutions, you can benefit from quality and accurate fulfillment reports that help you make wiser decisions about optimizing your supply chain. We are a 3PL provider in Toronto, and our Lean Methodology helps our clients eliminate any operations, equipment, personnel, or resources that do not add value to their supply chains. We do our best to ensure that you consistently deliver the right products to the right customers at the right time.
Ready to get long-term savings, customer satisfactions that deliver the best return on investment, lower operating costs, improved focus, high-end technology, and more? Contact us today. Our services also include warehousing and distribution, pick and pack, repackaging, integrated solutions with companies like Amazon, labelling, online reporting, and transportation. You can trust us to provide consistent, predictable, and quality results.