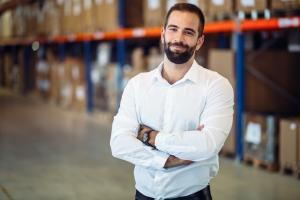 Now, more than ever, customers have endless choices about the types of products and services they want to spend their money on. Because of this customer-centered market, retailers need to have a customer-centric logistics system to stay competitive. With the right logistics optimization, you can improve your system to meet customer needs and demands.
Developing a customer-centric supply chain is necessary, but the process is not easy. Your entire organization, including your partners and members within your supply chain, also need to get on board. You need to create new ways of thinking and new approaches to each of your operations. However, with a third-party logistics provider (3PL) you can get the whole team on board in a seamless and time-sensitive manner. Once your new logistics management system is in place, you can gain a competitive edge and improve your customer reputation.
Evolution of Customer-Centric Logistics System
An important question to ask yourself as you contemplate shifting to a customer-centric logistics system is whether you should completely change your supply chain so it becomes customer-focused, or transition it slowly over time. Starting from scratch with a new customer-centric logistics system will be more expensive and stressful but it will get you to that competitive level faster. A more sensible approach that you can manage easier would be to gradually transition into this new system. Whatever your decision, it depends on your current standing in the market, your goal for where you want to be, how long you expect it to take for you to arrive at that goal, and the resources you will need to make the transition.
Business Case for a Customer-Centric Supply Chain
Part of transitioning to a customer-centric supply chain is to conduct extensive analyses. Here are some important questions to ask to help you assess your current supply chain, and prepare for the change:
What benefits do you expect to gain from this new model?
What are your projections for time, resources, and funding that will be required for this project?
How will these changes improve your customer outcomes?
Have you analyzed the market to see how it will respond to a move to a customer-centric supply chain?
How do these improvements translate into tangible advantages in your competitiveness, revenue increases, and profitability?
Who are your main stakeholders that will need to be on board?
Understanding the Customers and their Needs
To have a truly customer-centric supply chain you need to understand your customers' needs. For example, if you are a retailer, your customer is likely a consumer in a retail store or an online shopper. They may also be a wholesaler or a white label vendor that wants to brand your product and sell it through their own channels. Understanding who your customer is and what their needs are will help you with this transition. Once you define your customer clearly, you will be better able to shift your logistics to suit them.
If you are having a hard time gaining the same perspective as your customers to understand their needs, you can simply ask them. Take time to set up phone calls or email surveys to inquire about their previous pain points and issues and interview them to identify ways you could improve. Delegate for your team to do this for each of your customers so that you can create a short list of new expectations that can help you as you plan.
Common Customer Needs
Features: The product needs to meet all the functionalities and features that the customer expects.
Availability: Your inventory needs to be optimized so your customers can get a hold of enough quantities when they need it, without great delay.
Variation: You should offer sufficient variability among different SKUs to meet the needs of your customers.
Distribution: Customers' orders need to be delivered exactly where they need it within a reasonable time.
Quality: The product must perform as expected and should not have any flaws, defects, or other issues.
Value: The customer must feel that the product is priced appropriately for the value they get from it.
Choose Lean Supply Solutions to Optimize Your Supply Chain
The secret to transitioning to a customer-centric supply chain is to translate these common customer needs into changes that you can make in your supply chain. After you have interviewed your customers, you will get a better grasp of what their specific needs are to help you optimize. Every organization's results will vary, but these are some examples to get you thinking about how this process works. When you are ready to optimize your supply chain, you can partner with a 3PL provider that already has the resources, personnel, and expertise available.
At Lean Supply Solutions, we strive to provide a variety of logistics solutions to help our clients get competitive in their markets. We serve a variety of clients including distribution-sensitive supply chains, small- to medium-sized organizations, distributors, manufacturers, and retailers. We can help you transition to a customer-centric system that makes your business work better.
We are located in Toronto, and our Lean Methodology helps our clients eliminate any operations, equipment, personnel, or resources that do not add value to their supply chains. We do our best to ensure that you consistently deliver the right products to the right customers at the right time.
If you're ready to experience long-term savings, customer satisfactions that deliver the best return on investment, lower operating costs, improved focus, high-end technology, and more, contact us today. Our services also include warehousing and distribution, logistics management, pick and pack, repackaging, integrated solutions with companies like Amazon, labelling, online reporting, and transportation. You can trust us to provide consistent, predictable, and quality results.