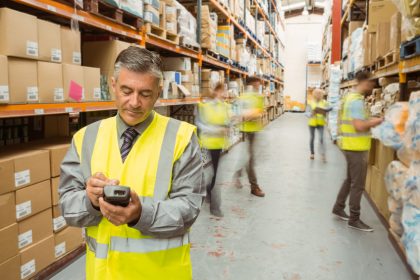 When compared to their big-box counterparts, small businesses face unique challenges. The ability to focus on a company's core competencies is vital to ensuring the sustainable growth of your business. Activities such as accounting, supply chain and information technology can become a drag on a company's growth unless they are a core competency of that company. As an example, small businesses are more likely to lack the ability to finance and lead dedicated management teams; therefore, oversight of the supply chain becomes one of many duties that the owner or store manager has to handle.
Finding ways to improve efficiency and overall supply-chain management isn't just a matter of saving time and money for your small businesses: it becomes a way to ensure you can devote maximum time to growing your operations rather than struggling with complex supply chain needs. Here are some ideal techniques for improving your overall efficiency when managing a supply chain.
Use the Cloud
Engaging a cloud service has several benefits. The most direct benefit is that your own company does not need to have an IT department. Instead you can leverage the expertise of your cloud provider and get quality software, hardware, and support without having the full infrastructure on your end. This will further free up staff and time and allow the company to better focus on core business activities. The other benefit is that the cloud is often platform-neutral. You can upload data on your computer at the office, check it on the go using your phone, and make adjustments later on another terminal entirely.
Dashboard Reporting
The phrase "knowledge is power" applies particularly well to running a supply chain. Being able to see at a glance what your inventory, order, and shipping statuses are can be a great way to both improve access to information and allow for quick response to changing situations in supply needs. When considering options for dashboard displays you should have an eye for multi-platform functionality. Being able to check up on supply statuses on the go is very important, so you will want a dashboard that adjusts itself to be easily readable regardless of whether you are looking at it on a desktop, smartphone, or tablet.
Supplier Sharing and Integration
Suppliers want to properly meet the needs of their customers, both big and small. You can help them do this by engaging in logistic integration and information sharing. Whether this is accomplished by special enterprise-resource-planning software, joint cloud access, or some other means is up to your individual preference. The key is that your supplier should be able to view your inventory status and information, such as how quickly (or slowly) you go through your inventory. This can allow the supplier to be more proactive in how it meets your needs and reduce any delays when you need to make adjustments.
Shopping Cart and Transportation Companies
Today's client expectations are changing, especially when it comes to seamless ordering entry and processing, as well as with quick ship cycles and order visibility. This is why integration with shopping cart providers, such as Amazon or Shopify, and transportation and courier companies is not only a great feature to have, but it is also a necessity to ensure you maintain a platform that can satisfy your clients' needs.
Efficient and Effective
Lean Supply Solutions is a third-party logistics provider that uses its Lean Methodology to help our clients by overseeing all elements of the supply chain. Cloud computing is just one element of our proven philosophy of eliminating any operations, equipment, or resources that are not capable of adding value to your supply chain. By ensuring that products are provided the right service at the required time, we offer consistent and predictable quality results. To learn more about the Lean Methodology and how we can use it to help your business please read more at www.leansupplysolutions.com. You can also contact us via e-mail at info@leansupplysolutions.com or give us a call at (905) 482-2590.