Thursday, 03 December 2020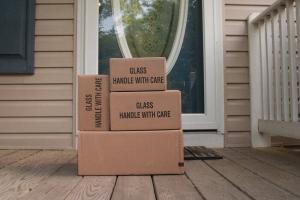 Winter—specifically the holidays—is undoubtedly the busiest season in the shipping and logistics industry. Incidentally, it also happens to be one of the most challenging due to a number of factors that come into play. Unpredictable weather, frigid temperatures, unsafe driving conditions for truckers, inevitable shipping delays, and product shortages are just some of the many challenges that supply chain managers have to deal with during this time of year. As the orders keep piling up, figuring out innovative and effective methods of meeting the high demand for product becomes increasingly difficult. Despite the fact that these winter challenges are completely foreseeable, some shipping and logistics companies still fall victim to them.
This year, the challenge of meeting the high demand for shipped products will be even greater, which is why it's important to prepare well ahead of time. Logistics and shipping product is, for the most part, a numbers game. It's estimated that the shipping industry loses anywhere between $2 billion and $3.5 billion every year due to insufficient preparation for the challenges that come with shipping product during the winter months.
But you don't have to be a part of that statistic because we've prepared a list of five foolproof tips that will help you be fully prepared for the season to come and overcome the challenges associated with it.
5 Tips to Prepare Your Supply Chain for a Successful Winter Season
Winter is a tough season for a variety of industries, particularly those that require a great deal of travelling in order to deliver items to patrons. Every year, the shipping industry suffers significant losses due to unavoidable factors related to inclement weather conditions, frigid temperatures, and supply shortages. Here are five tips to help your supply chain overcome these challenges and make your shipping process as seamless as possible even amidst harsh winter conditions and a global pandemic.
1. Prepare Your Supply Chain to Deal with Winter
In the logistics and shipping industry, preparation is key no matter what time of year it is, but it's especially crucial during the winter months when inclement weather conditions can put a big wrench in your shipping schedule. Despite heavy snowfalls and other unsafe driving conditions, customers still expect supply chain workers to work miracles and deliver their products on time.
To accommodate for uncontrollable weather conditions, it's important to plan your shipments as far ahead as possible. Map out multiple routes, including contingency routes in case the main one becomes inaccessible, and keep a close eye on changing weather conditions. Keep in mind that various states and provinces have varying winter climates and this should be accounted for when mapping out your shipping routes.
2. Efficiently Utilize All Shipping Resources
As a logistics and supply chain manager, you have access to a number of important and useful resources to help you ship products to your customers quickly and on time. Use them. Use all of them—and often. Partner with leading freight transporters that are adaptable, experienced, and offer fair and competitive shipping rates. When it comes to running successful supply chain operations, transparency is vital. You need to work with a third-party supply chain distributor and freight transportation company that has all the right networking connections to get your products delivered efficiently without risk of damage or loss. Plus, you should be granted access to the shipping process so that you can ensure your operations are running smoothly at all times.
3. Communicate Effectively
Effective communication mechanisms are imperative to the success of a logistics and supply chain operation. Different factions of the operation need to be able to contact one another at all times to ensure that the entire process is kept on track from start to finish. Open channels of communication are even more imperative in times of distress when delays are inevitable. Circumstances outside your control, including inclement weather, vehicular accidents, and other conditions can inevitably slow down supply chain operations.
Setting up a reliable communication system using state-of-the-art technology ensures that all levels of the supply chain system are promptly updated when and if delays do occur. Vendors and end-customers also need to be kept in the loop at all times. If you can foresee any shipping, processing, and receiving challenges in advance, you should let them know at the time of the order placement, so that there are no surprises along the way and they know exactly what to expect. It's better to prepare your customers for the worst-case scenario than to make grandiose overreaching promises that you can't guarantee. This will only lead to disappointment and dissatisfaction in the end and it could even dissolve the working relationship altogether.
4. Prepare for Inevitable Delays
Winter comes with a unique set of challenges that other seasons don't necessarily present. Regional climate differences, dangerous driving conditions, icy roads, and frigid temperatures can all cause inevitable delays. Even if you're shipping items from one warm region to another, the transportation process may still involve travelling through colder regions in order to get those items to their destination.
Inclement weather conditions such heavy snowfalls, snow squalls, ice accumulation, and various weather warnings in certain regions can cause massive shipping delays. Also, the holidays are the busiest season in the shipping industry, which means a higher number of destinations need to be reached throughout the shipping process than during any other time of the year.
We recommend preparing for these inevitable delays by:
Having a contingency plan
Mapping out your shipping dates and routes well in advance
Offering a shipment tracking system
Offering expedited shipping for urgent products
5. Collaborate with a Reliable Service Provider
Working with a reliable and well-connected third-party logistics and supply chain service provider like Lean Supply Solutions can help you overcome the many challenges winter brings to the shipping industry. We offer full-service cost-effective order and e-commerce fulfillment along with warehousing and distribution, 4PL contract logistics services using a variety of sophisticated network connections and technology. Contact us today to learn more about our supply chain and distribution services.