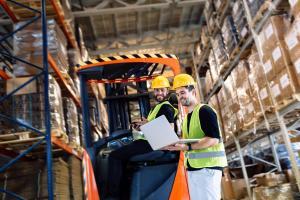 Over the past few months, supply chain leaders were faced with one of the biggest challenges in their careers. Industries across the globe were forced to reformulate their logistics management protocols in response to the financial, staffing, and resource shortages caused by the COVID-19 restrictions placed by various governments. The global economy suffered immense losses as international supply chains were either completely cut off or severely restricted—some are still enduring this issue.
Unsurprisingly, small- and medium-sized businesses have taken the biggest financial hit while big businesses and well-established brands are expected to survive this health and financial crisis for the most part.
Fortunately, there are certain tools that SMBs can use to help mitigate supply chain risks and navigate through these unprecedented times. If you work in the supply chain and logistics managements industry and are treading through rough waters due to the pandemic, here are some tools you can use to help get your business back on track.
Invest in Supply Performance Software
Reliable cloud-based supply performance software is an absolute must for all supply chain and logistics management operations regardless of size. This software is designed to help you mitigate risk in times of prosperity and economic downturns alike. As the name suggests, supply performance software provides supply chain businesses with a reliable digital platform to access information, promptly communicate with employees, and offer data-driven insights as needed.
This software is an extremely valuable investment for supply chain businesses in the best and worst of times because it helps you track inventory, follow active shipments, and monitor delivery statuses even when severe restrictions are in place.
Supply chain performance software provides you with detailed up-to-the-minute analytics regarding your logistics management operations. Important metrics to make note of include:
Product and service quality control
Cost of shipping, receiving, and storing inventory
Delivery and service requirements
Special requests made by customers
With this type of technology in your arsenal, you'll always know the whereabouts of various shipments and whether there are impending delays. This information allows you to communicate with your customers and provide them with updates in the event that there's any kind of holdup for any reason.
Boost Security Measures
Supply chains in general are extremely easy targets for online criminal activity. Oftentimes, their online security systems are vulnerable and poorly managed. Hackers bank on the fact that logistics management companies will neglect to update their network security measures and use this vulnerability as an opportunity to intercept data sharing applications.
In fact, supply chain databases are a goldmine for online identity thieves. For that reason, you need to always be on top of your cybersecurity game, especially in times of economic disparity such as the COVID-19 pandemic. As people become increasingly desperate to supplement their loss of income, they'll stop at nothing to make a quick buck even if that means stealing someone else's hard-earned livelihood.
As the surplus in demand continues to grow and supply of products dwindles, it's never been more important to protect your assets and prevent hackers from infiltrating your online networks. Hiring a managed network service can help you mitigate the risks of hackers breaking into your system and stealing valuable logistics management information. They'll frequently patch network failures, update your virtual systems, and implement strong security measures to keep your business's confidential information safe from hackers.
Use Technology-Enabled Services
Times of severe economic downturn can lead to severe job loss and insecurity. Unfortunately, the supply chain industry is far from immune to this phenomenon. Even before the pandemic, the industry was swiftly moving in the direction of automation. Now, that advancement is a life saver for a lot of logistics management operations.
Automating inventory and product movement is a lot more cost-effective than hiring, training, and paying a full team of employees to do the same jobs that can easily be done by technology-enabled services at a fraction of the cost. Technology-enabled services like automation can help supply chain companies save money in a number of ways, including:
Reducing or eliminating the cost of hiring and training new employees
Reducing the square footage of warehouses and shipping facilities
Increasing product output versus input
Focusing more on improving product quality and service efficiency
While it's always preferable to hire more production line and warehouse workers, the reality is that an increasing amount of these positions have been moving toward automation for decades. On the plus side, that allows supply chain operators to expand their services and create new types of positions that are better suited by human experience and knowledge. Most notably, technology-enabled services allow supply chain owners to expand their operations to external services such as making deliveries, customer service, and overseeing product and service quality control.
Managing Technology-Enabled Services to Increase Efficiency
Along the same wavelength, installing automated applications within your supply chain operations has been proven to increase production efficiency. Due to supply shortages caused by the COVID-19 pandemic, indirect supply risks for items like toilet paper, paper towels, office supplies, disinfectants, etc. are at an all-time high.
Professionally managed technology-enabled services can help mitigate these risks and the inevitable costs that are associated with them by immediately alerting supply chain operators to potential supply issues. The faster you're made aware of situations like this, the faster you can work toward finding and implementing the appropriate solutions.
Moreover, the instant you become aware of the nature of the problem and what caused it, the better prepared you'll be for similar issues in the future.
Pushing through the Recession Period
Regardless of industry, the COVID-19 pandemic has forever changed the way we all do business. At Lean Supply Solutions, we're committed to providing you with innovative and proven logistics management solutions that are geared toward expanding your operations on a regional, national, and international level. Using a unique blend of processes, world-class quality systems, and cutting-edge IT systems, we provide quantifiable value for our clients all over the world. Contact us today to learn how we can help you get through these hard times.