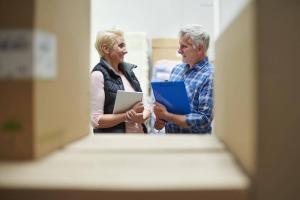 When scaling up a retail or e-commerce business that depends on delivering products to customers, you need to make sure that your logistics are optimized to ensure quick, accurate, and cost-effective delivery to keep your customers happy.
In fact, your entire business could depend on it.
A recent survey of 5,000 respondents showed that 31% of them were less likely to use the same company if their shipment was delayed the first time; 46% less likely to use the same company if their delivery was delayed a second time; and 38% were likely to dissuade others from using a brand if there were repeated delays.
So, as you can see, the stakes are high when it comes to getting your product delivered on-time.
The key is to optimize your logistics, and you can do just that by following some of these tips.
Implement Optimization Technology
The first step is to either implement your own optimization technology or to partner with a company that has an effective solution in place that can be customized for your needs.
For example, at Lean Supply Solutions, we use Harmony Logistics Platform.
Harmony can handle everything including:
Forecasting
Inbound supply chain
Distribution and warehouse
Order management
Outbound supply chain
After-market support execution
Having an optimized technology covering all the touch points of your operation is key to having an efficient logistics operation that runs efficiently to keep your customers happy.
Fulfill the Same-Day Delivery Demands
In a recent study, 49% of shoppers said that having same-day delivery makes them more likely to shop online. 96% of shoppers felt that the promise of "fast delivery" meant same-day delivery.
So, if you are offering fast delivery and it's not same-day, 96% of your customers might be disappointed.
All told, you have about 3-4 hours to get your customer's order shipped to ensure same-delivery and there's no room for delays or errors.
You need to have efficient and optimized supply chain management with efficient route planning software to layout the optimal path of delivery. It's important to work with a company like Lean Supply Solutions to make sure there's seamless connectivity from all aspects of your supply chain management.
Gain the Upper Hand in a Competitive Market
The best way to gain the upper hand in a competitive e-commerce marketplace is to offer the lowest price, which includes free shipping. However, you still need to make money, so this all starts with reducing your expenses and streamlining the logistics process to make it more efficient.
Working with a logistics company that has app-based technology will help you maximize time, minimize expenses, and result in shipments being delivered quickly to your customers. This will help you stay competitive and build customer loyalty.
Develop a Cost-Effective Supply Chain System
Take a look at your existing supply chain management and see where you can optimize or automate to not only make your supply chain more efficient, but also make it more cost-efficient, so you can gain a competitive advantage in the marketplace. By reducing costs and increasing efficiency through artificial intelligence, you should be able to start reaping rewards, even during downtimes.
By streamlining your storage strategy, improving supplier relationships, analyzing customer demand, optimizing routes, and more, you can help boost your bottom line even during slower times when revenue valleys might occur seasonally.
The other trickle-down effect is that your order processing time will increase and your ability to upsell and cross-sell to your existing customers will multiply as they're receiving their shipments on-time. This creates a satisfied customer that is more likely to become a repeat customer and a higher-value customer.
Look at your existing logistics program and see where the deficiencies are. If you need assistance, you can call on a supply chain management consultant, like Lean Supply Solutions, to help identify your needs and implement an optimized logistics program.
Generate Revenue Through Inbound Logistics
It might not be clear, but having your inbound logistics optimized can create an increased revenue stream from your customers.
Having a holistic approach to your entire logistics can significantly reduce costs, which can either boost your bottom line immediately or the savings can be passed on to your customers to encourage more customer loyalty.
Decreasing delivery times, even by a day, can also significantly boost your revenue numbers as your conversion rates will increase with each new customer converting into a repeat customer.
Providing quality products at a competitive price into the customer's hands as quickly as possible can help boost your business. By working backwards, if you can speed up the delivery process, you can gain more business which could allow you get more competitive on your pricing and/or increase the quality of your product to give it increased value.
You can get all of this just from having an optimized logistics plan in place.
Integrate Your Supply Chain for Timely Demand Fulfillment
If you're competing with the big boys, then you have to be able to have an efficient and responsive supply chain management company supporting you. Lean Supply Solutions provides effective end-to-end supply chain strategies for a range of industries and markets.
We also have full e-commerce and transportation integration to help optimize your logistics planning to help maximize your customer loyalty and satisfaction.
To get in touch with Lean Supply Solutions or to get a free no-obligation quote, contact us here.