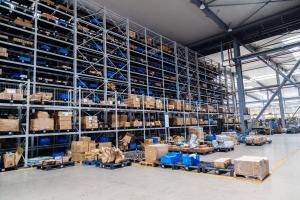 Fourth-party logistics (4PL) providers have a huge role within the supply chain. Not only do they assume many of the same roles as third-party logistics (3PL) providers, but they also take on a bigger responsibility in helping the business clients reach their goals.
The main difference between a 3PL vs. 4PL provider is the level of accountability and control. 4PLs are more like trusted advisors and the customer often relies heavily on their data and services to grow and meet their business goals. Depending on your business size and goals, one of these options will be right for you. For a deeper look at the difference between these two types of logistics management, here's what you need to know.
What Is 4PL?
Fourth-party logistics is a model in which manufacturers outsource both the organization and management of their supply chain to an external provider. 4PL offers a higher level of effective supply chain management to customers, which allows manufacturers to completely outsource their logistics process to external professionals for better management.
For example, the manufacture of a product will outsource aspects such as logistics, packaging, warehousing, and delivery of their products to a 4PL company. A 4PL company will then take control all these operations so that the manufacturer or retailer can focus on other aspects of their business.
These services include:
Freight sourcing strategies
Logistics
Analysis of transportation expenses
Analysis of carrier performance
Effective 3PL management
Business planning
Project management
Management of inbound, outbound, and reverse logistics
Coordination of a wide supplier base
Network analysis and designs
Analysis of capacity utilization
Inventory planning and management
Advantages of 4PL
Wider Management of Operations: Shipping, distribution, warehousing, physical sites, and information flow are all managed by the provider.
Information Technology: Software and automation are processes included in 4PL services to improve communication across the network. Providers can offer valuable information technology and software that increases visibility on a real-time basis.
Solution-Oriented Methods: 4PL providers aim to design the solution first to meet the business' requirements. They have expertise of end-to-end operations that relate to warehousing, distribution, freight, and information technology, and provide the best solutions for the client.
Disadvantages of 4PL
Less control over fulfillment and logistics processes
Possibility of being cost-prohibitive for start-up organizations and small businesses
What Is 3PL?
Third-party logistics involves a manufacturer maintaining oversight of their supply chain but outsourcing transportation and logistics operations to a 3PL provider. This model is similar to 4PL in many ways, but 3PL providers focus on logistics such as inventory storage, inventory management, customs brokerage, freight forwarding, contract management, picking and packing, crossdocking, and IT solutions. Unlike a 4PL, 3PL providers will not oversee the entire supply chain and organization.
Advantages of 3PL
Resource Network: A 3PL provider has a large resource network that provides advantages for in-house supply chains. They will manage all the logistics for a business from beginning to end. With their relationships and discounts, they can save you money on overhead and provide you with faster service.
Save Time and Money: A 3PL provider will eliminate your need to invest in warehouse space, technology, transportation, and staff to execute the logistics process. They can also manage billing, audits, training, staffing, and optimization.
Scalability and Flexibility: 3PL providers can also scale space, transportation, and labour according to your inventory needs.
Disadvantages of 3PL
Less inventory control
Costly expense if customer orders are low
Suitable for small-to-medium businesses, but not large ones
Limited control over the customer experience and fulfillment
The Main Differences between 4PL and 3PL
The main difference between a 3PL provider and a 4PL provider is that a 4PL handles the entire supply chain, while a 3PL focuses on logistics. Each one provides its own advantages depending on your situation, so understanding what you get with each provider will help you make the right decisions for your company.
Here are some of the key differences between the two options:
4PL providers are better for medium-to-large businesses, while 3PL providers are more suitable for small-to-medium businesses.
4PL providers function at the optimization and integration level while 3PL providers focus more on daily operations.
4PL providers may own assets like trucks and warehouses while 3PL providers generally don't typically own these assets.
4PL companies can effectively coordinate the activities of 3PL providers.
4PL providers provide the highest level of logistics services for a great value while 3PL providers are more focused on one-off transactions.
4PL providers maintain a single point of contact for every business' supply chain while with 3PL providers, businesses often need to manage certain aspects of the supply process internally.
Choose Lean Supply Solutions for 3PL or 4PL Services
If you have a start-up or small to medium-sized business 3PL services will be the better option for you. They will help you manage your warehousing and distribution so you can focus on marketing and sales as your business grows. However, if you need a wider range of services for your medium to large-sized organization a 4PL provider will be better suited to you.
The good news is that Lean Supply Solutions offers both. We offer 3PL and 4PL services, depending on what works best for our clients. While you get the logistics support you need, we will also ensure you get a return on your investment.
Our services include contract logistics, e-commerce fulfillment services, inventory planning and management, supply chain management and optimization, pick-and-pack services, freight and warehousing, reverse logistics management, and more.
We rise to the challenge of understanding our customers' needs and providing customized solutions to help them succeed. To learn more about outsourcing to our 3PL or 4PL services or to ask any questions, contact us today.