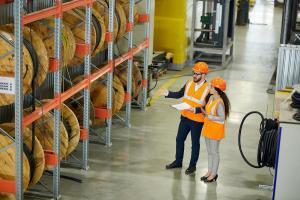 It is an important practice to regularly evaluate your business to ensure that you are on track for success. One of the most vital parts of your business is inventory management. If you have had the challenge of getting the right products in stock for when your customers need them, or if you have lost money due to excess stock in your warehouse, it is highly recommended that you improve your inventory management strategy. Here's what you need to know about inventory management systems and some best practices for managing inventory effectively.
What Is Inventory Management?
An inventory management system is one of the most important parts of a business' supply chain. It aims to ensure that the right products are always stocked, and that the right quantity is available for sale when customers need them. It also ensures that the business owner is fully aware of when each product comes and goes from the manufacturer, to the warehouse, to the distribution method, to the customer. When inventory management is done effectively, businesses can lower their costs while maximizing sales and streamlining the process.
Inventory Management Best Practices
Here are some best practices to help you manage inventory effectively.
Use the FIFO Approach
The FIFO approach stands for "First In, First Out". You should sell your goods in the same chronological order as they were purchased or created. This is extremely important if you are selling perishable products like food, makeup, and flowers. The best way to apply FIFO in a warehouse or storeroom is to add new items from the back so that older products are the first items that are picked.
Fine Tune Your Forecasting
Accurate forecasting is vital to ensuring that you make the right decisions about your inventory and are always prepared if there is an issue. You should base your projected sales calculations on factors such as historical sales figures, marketing trends, predicted growth, the economy, promotions, marketing efforts, and more.
Identify Low-Turn Stock
If you have stock taking up space in your warehouse because it hasn't been sold in the last six to 12 months, it is best for you to stop stocking that item. Instead, you should consider different strategies to clear the space of that stock. You can offer it at a special discount or promotion. Excess stock wastes your space and capital, so it is best that you get these items moving as quickly as possible.
Audit Your Stock
Even with the best inventory management software and strategy it is still important for you to periodically counter inventory to ensure that what you have in stock matches what your records say. There are different techniques for auditing your stock including an annual year-end physical check where you count every single item. You can also do an ongoing spot check which can be useful for products that are fast moving or have stocking issues.
Use Inventory Management Software
Inventory management software can help you track your products in real time and provide you with accurate counts so you can give your customers current information. It also helps you know where items are in your warehouse so that you can make the best decisions for organizing and route planning. When choosing a good inventory management software, you can expect to reap the following benefits:
Reduce costs, improve cash flow, and boost your bottom line
Track inventory in real time
Forecast customer demand
Prevent product and production shortages
Prevent excess stock and raw materials
Easy inventory analysis on any device
Accessible from your point-of-sale (POS) system
Optimize warehouse organization and employee time
Quick and efficient barcode scanning to speed up intake
Multi-location management (tracking inventory across several locations or warehouses)
Hire a Stock Controller
If you have a lot of inventory it may be in your best interest to hire one person and make them responsible for managing it. A stock controller will process all purchase orders, receive deliveries, and ensure that everything that enters your warehouse matches what was ordered.
Remember Quality Control
No matter what industry you are in, you must ensure that all your products are in great condition and work as they should. Quality control is a vital part of inventory management because you do not want to be sending your customers defective items. Ensuring quality control can be as simple as having your employees quickly examine the items during stock audits. They should follow a checklist for signs of damage and correct product labelling to make sure everything is in order.
Get Inventory Management Help from Lean Supply Solutions
Proper inventory management requires the right processes and tools. Simply tracking everything with pen and paper will consume your time and will produce serious errors. Setting up a quality inventory management system will save you the hassle, save you money, ensure accuracy, help you prepare for any potential issues, and improve the way you run your warehouse. When you partner with a third-party logistics provider (3PL), you'll have incredible cloud-based inventory management solutions and the manpower to run your warehouse for better optimization.
If you're looking for the right 3PL partner to help you implement your inventory management solution, look no further than Lean Supply Solutions. We can help you if you are looking for a 3PL company with the latest technology and cloud-based software systems. Our 3PL and 4PL services include pick-and-pack, inventory management, delivery, and more, and we are dedicated to helping you achieve consistent, accurate, and quality results. To learn more about outsourcing to our 3PL distribution team, or to ask any questions, contact us today!