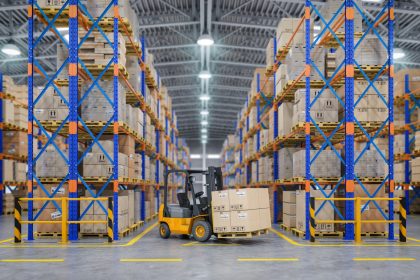 If you are running a business, then you know that logistics is key. You need to make sure that your products are getting from Point A to Point B as efficiently as possible and without any delays. After all, the way that you get your products to your customers can make or break your company!
One popular logistics solution is cross-docking. In this post, we will discuss what cross-docking is, the different types, the advantages, and the risks of using a cross-docking solution.
What Is Cross-Docking?
Cross-docking is a logistics technique that is used to improve the efficiency of shipping and receiving operations. In a cross-docking system, goods are loaded onto outbound trucks directly from inbound trucks, without being stored in a warehouse first. This eliminates the need for data entry and tracking, as well as the need to move the goods from one location to another.
Cross-docking can be used for a variety of different products, including perishables, automotive parts, and retail goods. While it is not suitable for all types of products, it can offer significant advantages in terms of cost and efficiency.
Types of Cross-Docking
There are a few different types of cross-docking that businesses can take advantage of.
Manufacturing Cross-Docking
Cross-docking in manufacturing generally consists of two types: receiving and shipping. When materials arrive at a plant, they are unloaded and immediately loaded onto outgoing vehicles. This type of cross-docking eliminates the need for storage between the time when materials arrive and when they are needed for production. Instead, materials flow directly from receiving to shipping, resulting in a more streamlined operation.
Retail Cross-Docking
Retail cross-docking generally involves the movement of goods from a supplier to a retail store. In many cases, retailers will receive shipments of goods that are already pre-packaged and ready for sale. These shipments are then unloaded and immediately loaded onto outgoing vehicles bound for the retail store. This type of cross-docking eliminates the need for storage between the time when shipments arrive and when they are needed at the store. As a result, retailers can reduce their inventory costs and improve their overall efficiency.
Distributor Cross-Docking
In distributor cross-docking, products are received from suppliers and then loaded onto outbound trucks without any storage in between. This type of cross-docking is often used when suppliers are located close to the shipping destination. By using distributor cross-docking, companies can save on warehouse space and reduce inventory levels. However, this type of cross-docking requires precise coordination between suppliers, distributors, and transportation companies. If any one of these elements is delayed, it can disrupt the entire process.
Transportation Cross-Docking
Transportation cross-docking involves coordinating the arrival of inbound shipments with the departure of outbound shipments. This type of cross-docking is often used by retailers who need to quickly restock their shelves. For example, a retailer might receive a shipment of products from a supplier in the morning and then ship those same products out to stores later in the day. By using transportation cross-docking, the retailer can avoid the cost and time associated with storing the products in a warehouse.
Opportunistic Cross-Docking
Opportunistic cross-docking takes advantage of empty space in outbound vehicles that are already scheduled to leave the facility. This type of cross-docking is often used for time-sensitive shipments, such as fresh produce or live animals. While opportunistic cross-docking can be beneficial in terms of cost and time, it can also lead to higher levels of variability and risk.
Advantages of Cross-Docking
Cross docking can provide a number of advantages for businesses, including reducing shipping costs and lead times, as well as increasing efficiencies.
One of the biggest advantages of cross docking is that it can save on storage costs. By eliminating the need to store products in a warehouse, businesses can free up valuable space that can be used for other purposes. Additionally, cross docking can help to reduce lead times by ensuring that products are shipped out as soon as they arrive. This can be especially beneficial for businesses that deal with perishable goods.
By employing cross docking, it can help to improve overall efficiency by reducing the time and labor required to ship products. By streamlining the shipping process, businesses can save money and improve their bottom line.
Risks/Disadvantages of Cross-Docking
While cross-docking can be an efficient way to move goods and avoid storage costs, there are also a number of risks and disadvantages associated with this approach.
One of the biggest risks is that of damaged or lost merchandise. When goods are unloaded from one truck and loaded directly onto another, there is a risk that they will be dropped or mishandled. In addition, if the goods are not properly secured, they may shift during transit and sustain damage.
Another risk is that of delays. If one of the trucks arrives late or there is some other issue with the loading process, it can cause a domino effect that delays the entire shipment.
Cross-docking can be expensive if not done correctly. If workers are not properly trained or if there are inefficient loading procedures, it can actually end up costing more to use this method than traditional shipping methods.
How Can Lean Supply Solutions Help You?
If your company is working to improve efficiency and reduce waste, Lean Supply Solutions can help you achieve your goals. Our "lean methodology" allows us to focus on streamlining processes and eliminating waste. With over 20 years of experience in the logistics industry, we have the right level expertise to offer exceptional supply chain solutions that are custom-tailored for your business. Contact us today to get a free quote.