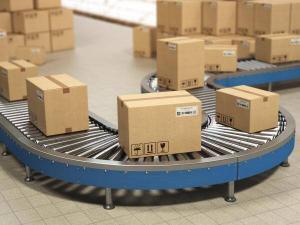 As any business knows, the key to success and sustainability isn't just acquiring new customers. Customer loyalty is the most important aspect when it comes to keeping a business running and growing. And it costs a lot more to get a new customer than it does to keep an existing one.
While product features and value, competitive pricing, customer service, and return policies can all establish customer loyalty, these days a good or bad shipping experience can influence whether a customer becomes a repeat customer. In some circles, shipping experience can be the "make-or-break" for customer loyalty.
So how do you ensure that your customers get a positive shipping experience to keep them happy and buying from you again and again? The key lies in your logistics strategy to make sure that the journey of your product from your warehouse to your customer's hands is quick and flawless to ensure a happy and loyal customer.
These tips for better logistics management can help you achieve those goals by helping you plan a live logistics strategy.
Use Live Logistics Planning and Delivery Route Optimization
On a basic level, live logistics planning is the ability to properly track your shipments in real-time so you can see exactly where your shipment is at all times. This not only helps with tracking and determining the location of the shipment but can also help allocate that the right shipment goes on the right truck with the right driver on the right route. For example, if the shipment requires refrigeration, you should be able to clearly monitor that your product is on the correct truck.
This can also help with delivery routes. Delivery routes and loads can be tracked in real-time to allow you to maximize space on a truck that might not be at full capacity and that is on a route that matches where your product needs to be. This can allow you to "piggyback" on that truck with limited lead time to get your product to your customer easily and cost-effectively.
All of this activity can be tracked with apps from your 3PL carrier partners.
Boost Delivery Experience for Customers with Capacity Optimization
Times definitely have changed when it comes to customer expectations. In the past, for example, when a customer would order a product from mail order or a television ad over the phone, it was expected that the product would take six to eight weeks to arrive at their door.
Now, with any e-commerce transaction, not only are shipments expected quicker, but the customer expects to be able to see their shipment progress every step of the way.
Be Transparent on Shipping Prices and Conditions
While competition is fierce to not only offer top-quality products, customer service, and delivery turnaround, it's important to be clear to your customers when it comes to shipping prices and conditions.
The customer experience can be spoiled on checkout if costs and conditions aren't clearly disclosed before the checkout process. A sudden and unexpected cost increase in the shopping cart can result in cart abandonment. Same goes for a sudden change in delivery time. If there's a shipping cost, disclose it immediately in the shopping process, so that your customer is aware of the cost.
The best option is to review your competition to see what they are offering. You can also justify charging higher shipping costs for expedited delivery or lower quantity on the order.
No matter what your policy, make it clear and easy for the customer to access before checking out.
Offer as Many Options as Your Customers Need
As mentioned above, you need to not only reveal your shipping prices and conditions, but you should also give options to suit your customers' individual needs. Give them different price points for shipping speed as some customers don't mind paying more for shipping to get their product faster.
If you offer a free shipping element for a certain spending amount (e.g. spend $100 to get free shipping), make sure to reveal that fact during the "add to cart" process so they can see how much more they might need to spend to qualify for free shipping. This can not only increase your sales but will increase customer satisfaction.
Using coupon codes to save on shipping can also work. Having a rewards program or a "your first order ships free" promotion can also help increase customer satisfaction and loyalty.
Choose the Best Shipping Partners and Logistic Tools
The key to all of this, however, is to make sure that you're using logistics and shipping partners that can provide you with the right tools and services so that both you and your customers are satisfied with the cost, speed, accuracy, and efficiency of product shipments.
They must have the ability and the technology that allows you ease of use, transparency, and full communication capabilities for feedback.
At Lean Supply Solutions, we offer fulfillment and supply chain management solutions using the latest Harmony technology that integrates the basics like track and trace throughout the network and also provides the additional view into shipping details, availability of inventory on specific dates, and detail per box tracking to end customers.
We also have full e-commerce and transportation integration to help optimize your logistics planning to help maximize your customer loyalty and satisfaction.
To get in touch with Lean Supply Solutions or to get a free no-obligation quote, contact us here.